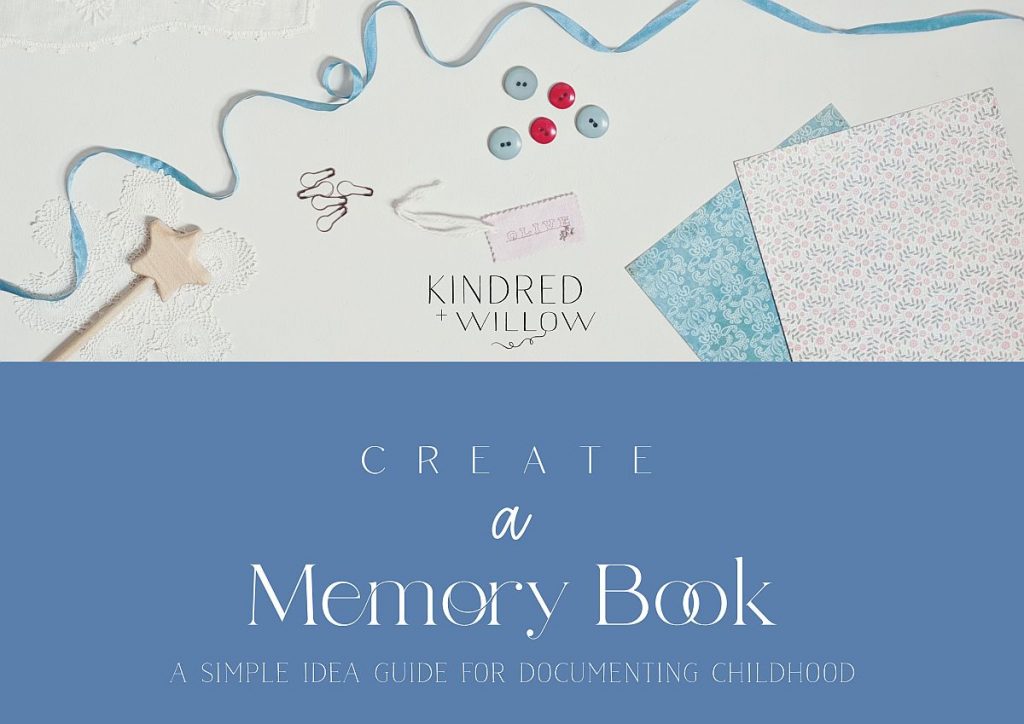 When my daughter was around three years old, I had the idea to start a memory book with her as a way to keep together all the little bits and pieces she collects along the way through childhood – little notes and cards from friends and family, her drawings and stickers, dried leaves and flowers, and of course, photos! When it occurred to me to start a memory book, it was at the height of the scrapbooking craze, when many were getting into scrapbooking and creating some really lovely-looking and meticulously put together books. I knew I'd never be capable of creating something so well put together – and, knowing me, it would never get done if I had to plan it to look perfect! I also wanted my daughter to make it her own, by creating pages as she saw fit without too much input from me. Having said that though, I admit I have done a few of the pages myself and have enjoyed making a few special birthday pages for each child.
I just love the look and feel of those old Victorian-era scrapbooks that have bits of everything stuck into them – newspaper cuttings, photos, ticket stubs and other bits of paper ephemera stuck everywhere and that is where the inspiration came from for these memory books.
To get started, I just bought a regular hard-cover sketch book from Michael's and let my daughter go to town creating her memory book. Our books are not very chronological – a three year old tends to open to any page she wants to get to work! We have had fun putting these memory books together over the years and I thought it would be nice to make a post about it to offer some inspiration for others to get started in case you're interested in doing something similar with your little one. If you're like me, and not very organized, it is a nice to be able to just pick up the book when you have free time together and do a page here and there without much planning involved.
When my son came along, I knew I wanted to start a memory book for him too, seeing how much my daughter loved to make hers. Both of my older children still love to look over their books and add in things when they have some down time (ahem, whenever we can wrestle them away from the screens!). We've now started one for our new little guy, Arthur – his book you see below, looking all fresh and new!
Making a Memory Book – getting started
In this post you'll find some of the pages from our memory books to give you some ideas to get started, though I'm sure you'll come up with plenty ideas on your own too!
A few things supplies to get you started
hardcover sketchbook – choose one with thicker pages
glue-stick or white glue
scissors
ephemera – cards, notes, drawings, ticket stubs, photos, wrapping paper
stickers – alphabet and number stickers are particularly useful
pencil crayons, crayons, markers or pens
photo corners
corner paper punch
patterned cardstock
washi tape
You won't necessarily need all of these things, some I've just listed as ideas for you to help decorate your books.
things to collect along the way
As a parent or caregiver, I'm sure you've collected some of the little mementoes of childhood along the way for your little one, though perhaps they're just sitting in a box and don't see the light of day too much. When I started the memory book for my daughter, I had just such a box of little bits and pieces that were special to her, things that I thought it was a shame to keep tucked away. I like that we now have these things in a book that she can leaf through and remember those times in her childhood – I also made sure to make notes for some of the items of little things she had said about them, or where they came from…things that would escape our memories down the road and we would want to remember. This also ensures that that history is passed on down the line too – a nice way to document family stories – how I would have loved to have had such a book that my grandparents or great-grandparents had made!cards, notes and letters from friends & relatives
tickets from museums, travel, movies, concerts
I love to save tickets of all kinds for our memory books – the tube tickets from when my daughter went to England with her grandparents, as well as all the museum ticket stubs and pamphlets for all the other places she visited there.
drawings and paintings
First artworks are very precious to young children and they love to see how they progress along the way. My son loved to draw characters and make up names and stories for each one – we still laugh when we read about some of them now!
crafts and artwork made at school
At my children's school they make several pieces of artwork through the year to display on their locker – I just love the self-portraits they've done and like to include them in our memory books along with what grade they were made in.
invitations
I like to keep invitations too – some of them are works of art in themselves! They are also a great reminder of birthday parties attended and remembrances of friends from years past.
awards
Children love to have their achievements acknowledged – whenever a paper award is sent home from school, I make sure I tuck it into the box to add to their memory books. Don't forget awards from extra-curriculars as well!
birthday and holiday wrapping paper
It's quite fun to make a little collage with all the pretty bits of wrapping paper at birthday time. I've done a few birthday pages for our books with a collage of paper and little cards on one side and then a photo on the opposite page of the birthday girl or boy and some photos from the party, then add in some stickers to tell how old they've turned.
Stickers
Stickers make great embellishments for your memory book pages and they are also perfect for creating 'sticker stories' – a great activity for young kids. Little ones love stickers! I still love stickers, haha. Didn't every child of the '80s have a sticker collection? I still remember my sticker book fondly – the 'puffy' stickers, the scratch-and-sniff, the holographic ones – aw, those stickers were the best! My children loved to make 'sticker story' pages in their books, especially when they were in the 3-6 years old range – they would draw a background and then place the stickers in the 'scene' and then make up names and stories alongside – I would write them down so they could look back on them later. That kept them occupied for ages and they would come up with quite cute and comical stuff.
all about me / my year in review printables
I have come across a number of lovely printable colouring pages over the years and my kids have really enjoyed filling in all the little details about themselves. These pages are great for kids to look back on and remember what they were like at a certain age and what their interests were.
After your children have filled in all the details and had fun colouring them in, you can then glue or tape these pages into your memory book. A few to search for are 'All About Me' printable or 'My Year in Review' printable. There are all sorts around the internet, so choose one you like and let your kids get creative with them! I have also created my own 'All About Me' printable to offer as a free download, please see below and be sure to get a copy! I hope to get some others done soon too, so make sure to check back for updates.
Putting your memory book together
IDEAS TO GET YOU STARTED
The idea around these memory books is pretty casual. I think it's important to let kids have the freedom to be creative without too much emphasis on following rules or trying to make things look perfect. I have a container for each of my children that have lots of craft supplies for their books, as well as some photos they know they can cut and paste as they see fit.
Here are some examples from the pages of our memory books to give you some ideas to get you going! Some of the pages are still 'works in progress' that the kids will add more to as they go along.
birthday collage page
school artwork
toy catalogue Collage
cards, invitations & letters
sticker pages
family history page
sibling pages
holiday crafts & holiday paper collage
a few more things to consider
Be sure to jot down some little notes alongside the items included in your memory book – those handwritten words will be what makes those items come alive from the past!
Record the age, date, place and little anecdotes your children tell about their artwork, etc. Funny stories from school, cute conversations between siblings, etc. My kids love to hear the funny things they said when they were smaller!
Write down words to songs and rhymes they know off-by-heart now. It's surprising how quickly those things fade away! I used to play skipping at just about every school recess for years, but I now hardly remember a single rhyme and wished I did to pass them on to my kids now.
Other page ideas: a page devoted to a special pet, cousins, family vacations, relatives, best friends, favourite toys, penpals, summer camp. I'm sure you'll come up with many more!
I hope you have enjoyed this tutorial and it will inspire you to make a memory book with your own little ones!