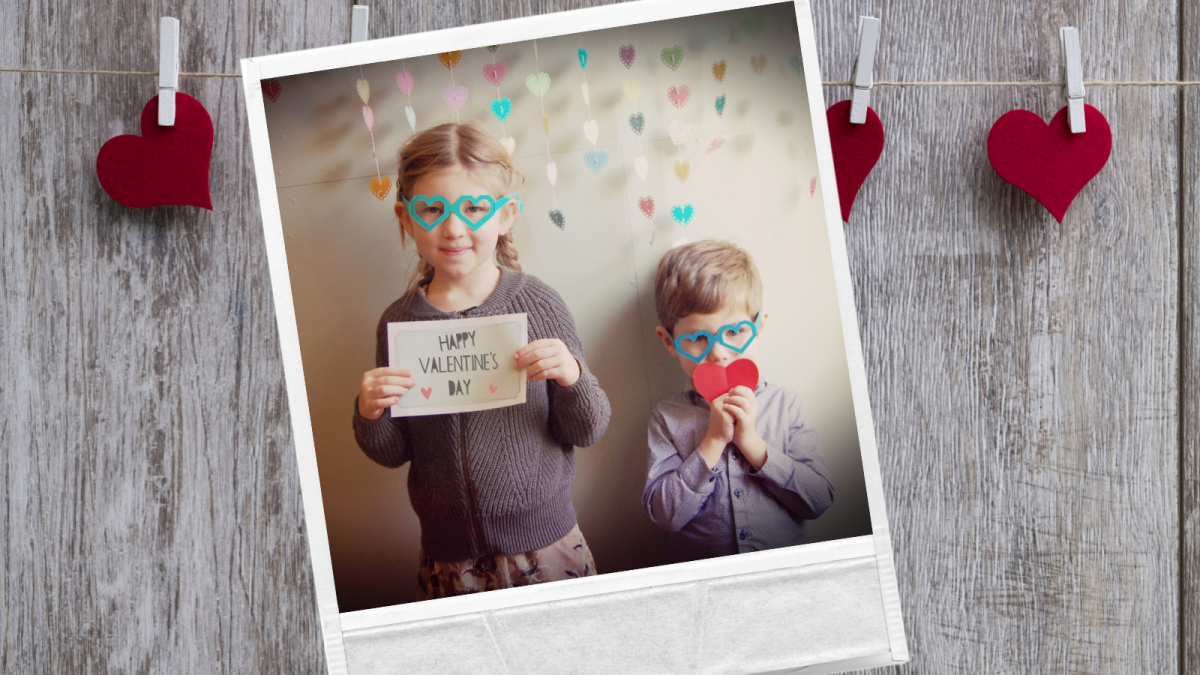 Above are two of my favourite little Valentines – my daughter and son when they were about six and almost 3. This is one of my favourite photos! I remember how much fun they had that day playing around with their heart-shaped glasses and jumping on the bed, excited for Valentine's Day festivities.
We used this photo to send Valentine's wishes to the kids' grandparents that year. I remember we had many outtakes before I finally got a shot of them both looking at the camera and standing still. Well worth the effort though for the sweet results and a lovely little card to send and make someone smile on Valentine's Day!
Diy Valentine photo card
what you will need
Colourful cardstock to trace glasses onto
Scissors or X-Acto knife and ruler
Glue or rubber cement
Your little photo model(s)
Neutral wall or backdrop to take photos against
Camera or phone camera
Cardstock or photopaper to print final photo
Printer
The heart glasses are paper ones that you can make yourself and the downloadable template can be found at the Mr Printables site.
Print out glasses template and cut out. Trace on to colourful cardstock or glitter cardstock, cut out using sharp scissors or an X-Acto knife. Assemble according to the instructions from the Mr. Printables site.
Let glasses dry.
Choose a wall to use as your photo backdrop. We used a neutral coloured backdrop I had made previously and strung up some cut out paper hearts in the background.
You can print out a 'Happy Valentine's Day' message on a card for kids to hold or better yet, have them write one of their own, if old enough. I had my daughter hold a blank piece at the time and we added lettering later in Picmonkey. I also cut out a paper heart for my son to hold (very important if an older sibling has the important job of holding the sign, haha)
Very important – make sure your little ones are well-rested before you begin or their patience (and yours!) will wear thin quickly and it might be tricky to capture the images you're hoping for.
Now have little ones put on their heart glasses, stand in front of the backdrop and you can snap away! Kids will have lots of fun with this if you make it into a bit of a party-time – put on some music and have a good time – you might even like some of the outtakes best to use for your card.
After the photoshoot is over, take your photos over to a photo editing site such as Canva or Picmonkey – do a little cropping and add some text, fix up the exposure. You can also pop the photo into one of their ready-made card templates. Canva in particular has lots to choose from.
Now just print and send and make someone smile this Valentine's Day with the cutest DIY Valentine card!
Valentine Card idea for little friends
These sweet printable glasses also double as unique Valentine cards that kids can give to their friends/classmates – they even come with a set of tags you can attach and a little glasses case – how sweet is that! Though, believe me, you don't want to make too many of these as all that cutting is quite hard on the hands, haha, so you might want to limit giving them to just a few little friends.
I remember my daughter wanted several pairs for her friends and I think I made 6 or 7 in the end – a lot of precise manual cutting with an X-Acto knife!
Oh, be sure to make the glasses out of sturdy cardstock too as kids can be quite rough and these will tear easily as they take them on and off. I managed to preserve a few pairs for future years, though the ones made out of flimsier paper didn't survive. The printable glasses templates come in two sizes too – so you can make them to fit all kids little and big!
If you haven't already, check out the Mr Printables site – they have so many clever and unique activities and crafts for kids and adults alike!