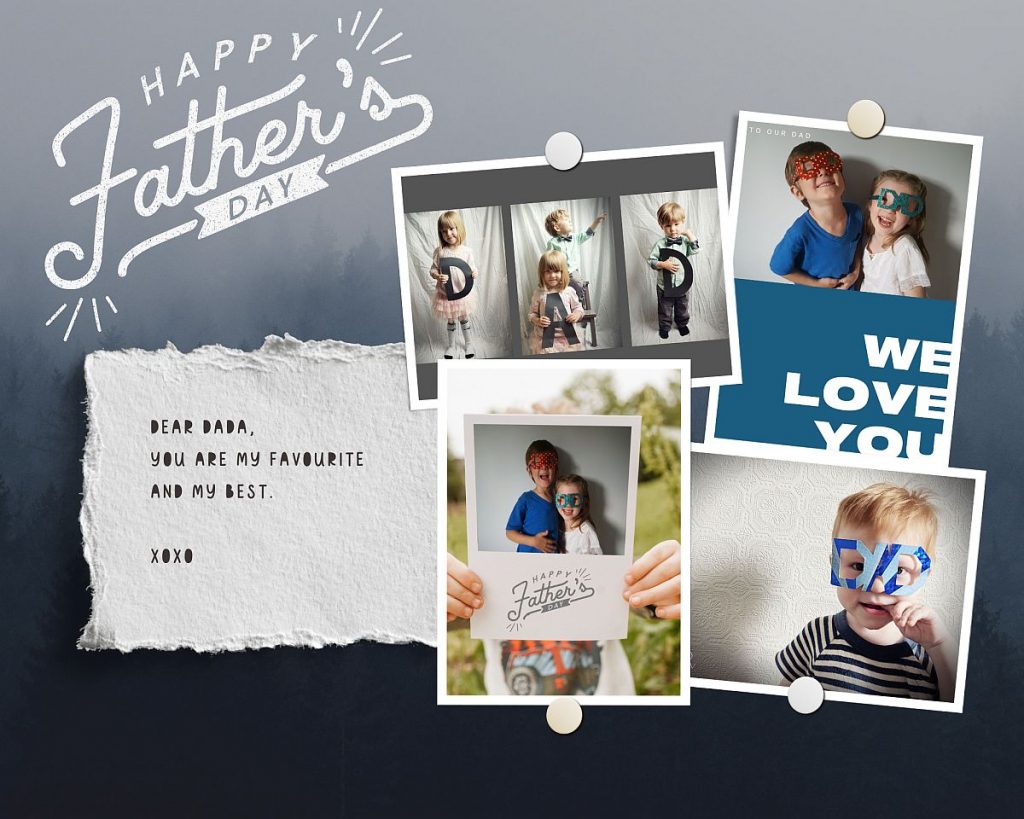 I like to think that the best gifts are the homemade kind, and this is especially true when they are gifts given to you by children – kids make some of the sweetest (and sometimes really quite funny) things! A few years ago I had come across a gift that I had made for my mum for Mother's Day – it was a plastic Alf doll (remember that show!?) that had once been filled with candy, taped to a white rag, on which I had written some Mother's Day sentiments with colourful markers. I could have at least given it with the candy still in – sorry mum! It did make me laugh when I found it though!
Schools are daycares and great for working with kids on crafts to give their parents on Mother's Day and Father's Day, so in the past I have often made photo gifts to give along with whatever craft the kids have made at school for their dad. We've also done a few of the fill-in 'All About Dad' printables, as they're fun to do and when you come across them years later it's cute to see what the kids' perspective of their dad was when they were small! I made up my own little printable for you to print and fill out with your own little ones, please see the bottom of the post for download!
A few simple last minute ideas
Anyway, I just thought I'd share a few ideas for simple Father's Day gifts that the kids and I have done for their dad over the years in case you're like me and don't start thinking of these things till the last minute!
3 Quick and Simple Gifts using photos
Photo gifts make such a nice keepsake and it can be fun for the kids to dress up and have their picture taken in a little 'photoshoot'. Well, depending on the age – when they're very little, a photoshoot can be quite a tricky endeavour and can take a lot of patience, especially if you're trying to get multiple kids together for a photo, but I think they're well worth the effort!
#1 – Dad glasses photoshoot – Father's Day Card Print
When I saw the Father's Day Typography Glasses on Mr. Printables a few years ago when looking for Father's Day gift ideas, I thought they were such a cute idea, and not just a little bit ingenious too! I made a couple pairs for the kids and we set about doing a photoshoot with the aim of making a gift for their own lovely 'dada'. They had lots of fun posing and acting silly for the photos and we got some really nice shots to make a memorable card for their dad – he loved it!
We've used these great templates a few times and reused the old glasses too and have a few sweet keepsake photos that show their love for dada over the years. These photos make a lovely simple and touching gift for dad!
what you will need
Calm and willing children
DAD glasses printable template – free download at Mr. Printables
Colourful or decorative cardstock to trace DAD template onto
X-Acto knife and scissors to cut out glasses
ruler
glue or rubber cement
Canva or Picmonkey (or whatever program you like to edit photos in- these two are free, though some elements are subscription-based)
Camera or phone camera for snapping some cute photos
Good lighting – try to do your photos by a window with decent light coming in
A plain wall for backdrop or whatever backdrop you choose
Inkjet printer (mine is the Epson ET-2750) and does well with printing photos on light card stock or cover stock
How to make Dad glasses Photo card
Print out the DAD glasses template from Mr. Printables
Cut out using scissors and/or X-Acto knife. Cutting with a ruler placed along the lines of the template helps keep your cutting lines straight.
Place paper template on the back of your colourful cardstock – make sure that you place the template so it reads backwards so that when you cut it out it will read the right way around! Using a pencil, trace the glasses onto the cardstock.
Cut out the glasses using ruler and X-Acto knife or scissors. It really helps to have an X-Acto knife or something similar here as it would be tricky to cut the middle out of the glasses with just scissors.
Put glasses together (glue arms on) and let dry (details come with the printable).
Set up backdrop or pick a wall or outdoor location to take photos.
Once glasses are dry, fetch the kids and take some (lots of) photos! (See below for some tips on taking kids' photos).
Once you're satisfied with your shots, upload them to your computer then edit them using free software such as Picmonkey or Canva. Alternately, you can edit them directly on your phone with apps such as Afterlight or Lightroom.
Picmonkey and Canva have lots of nice templates for card making, so you can pop your photo in one of those or try making your own.
Print your card on card stock or cover stock and trim to size using a paper cutter or X-Acto knife and ruler.
Let the kids personalise the card with greetings and little drawings. Don't forget to print an 'All About Dad' questionnaire to go with your lovely, unique card!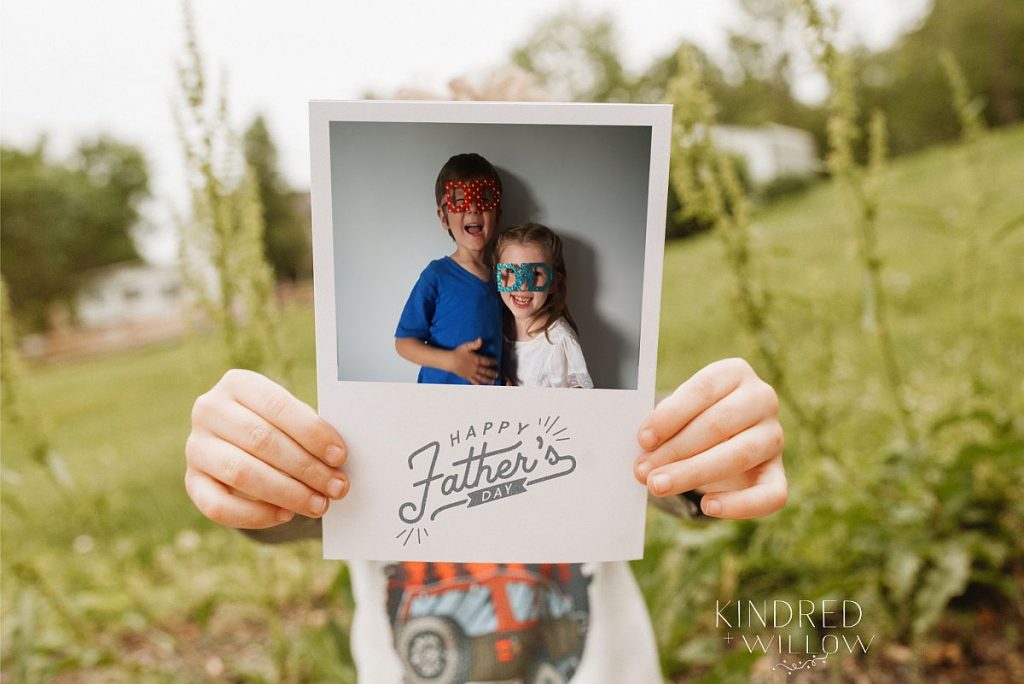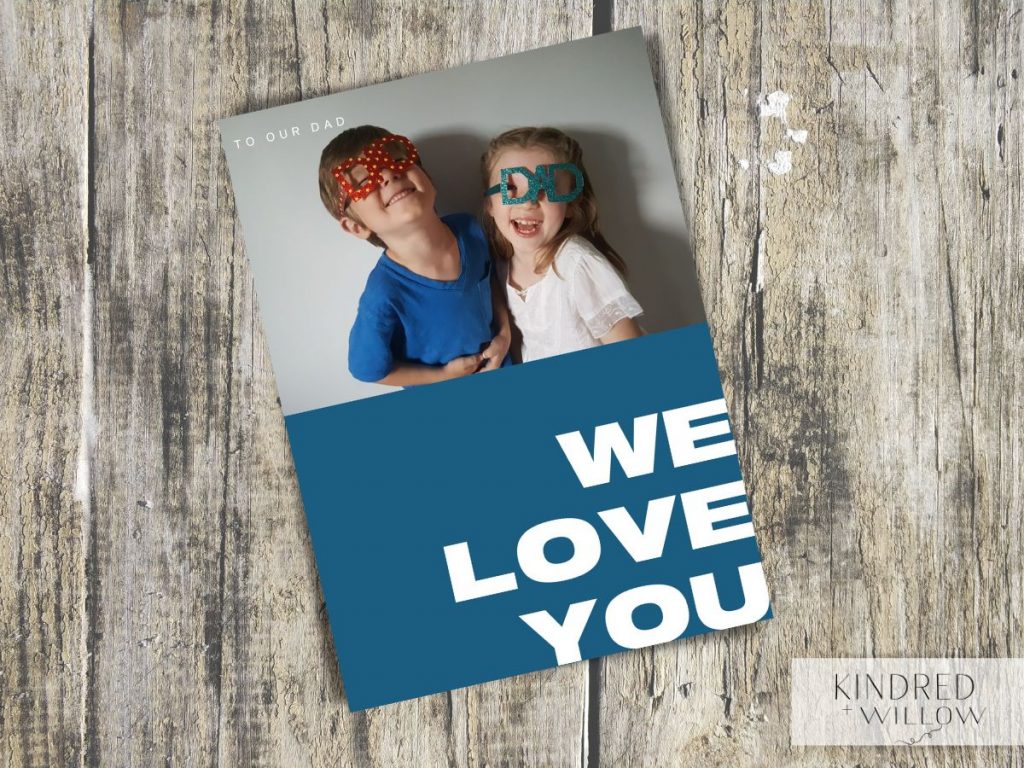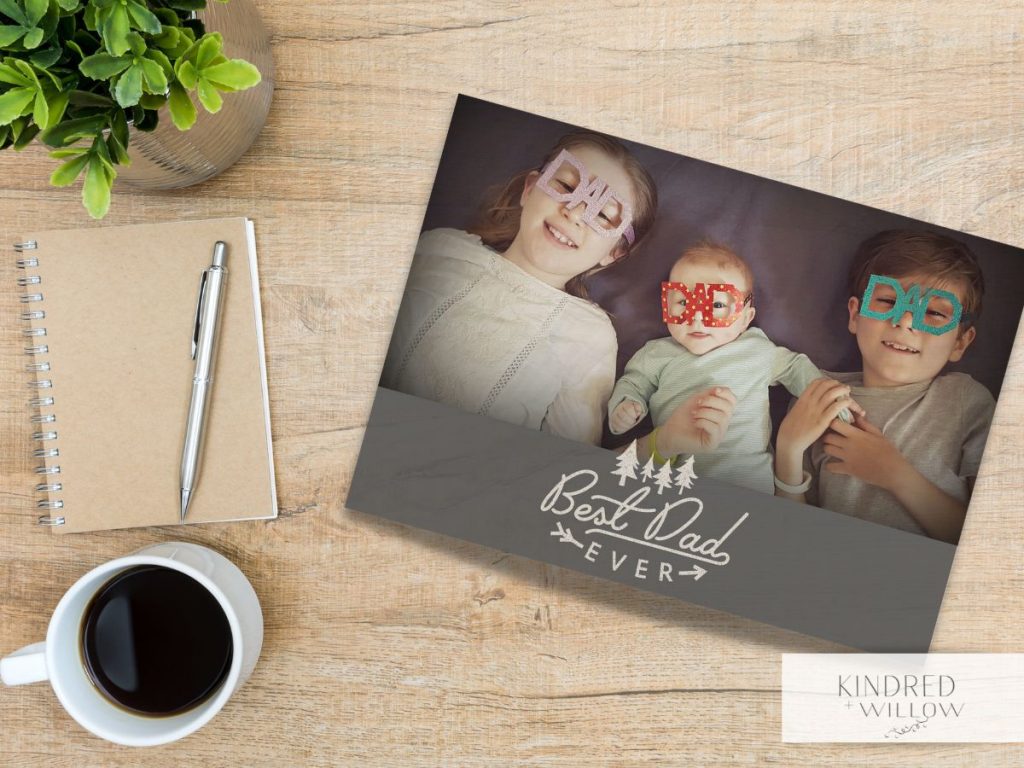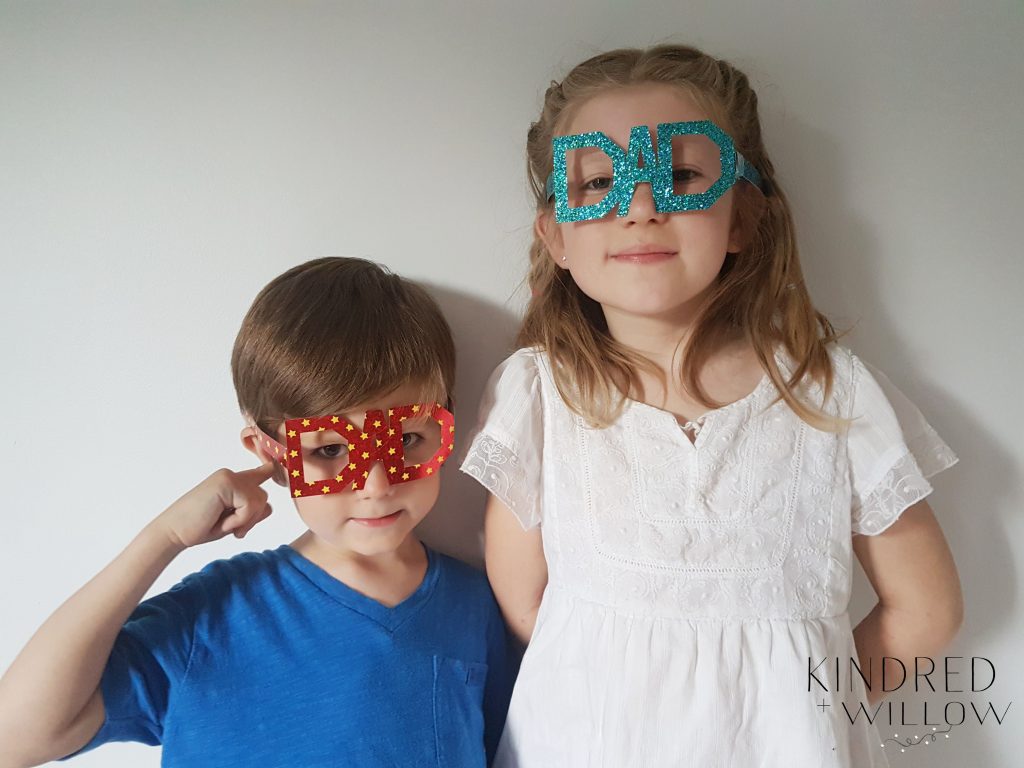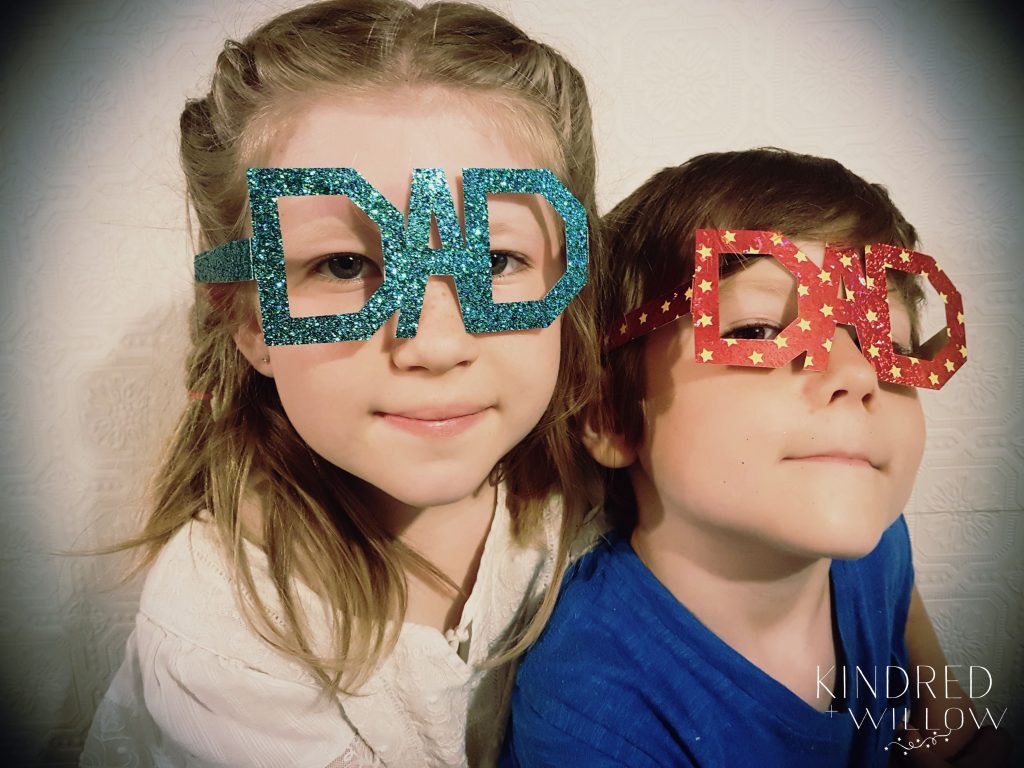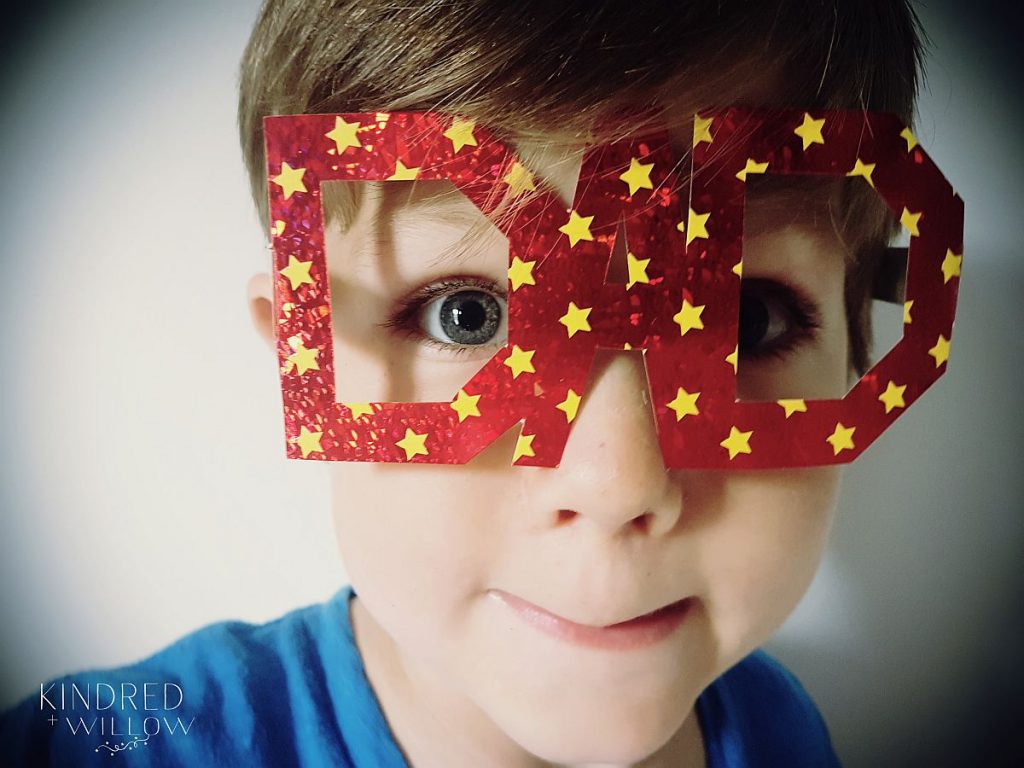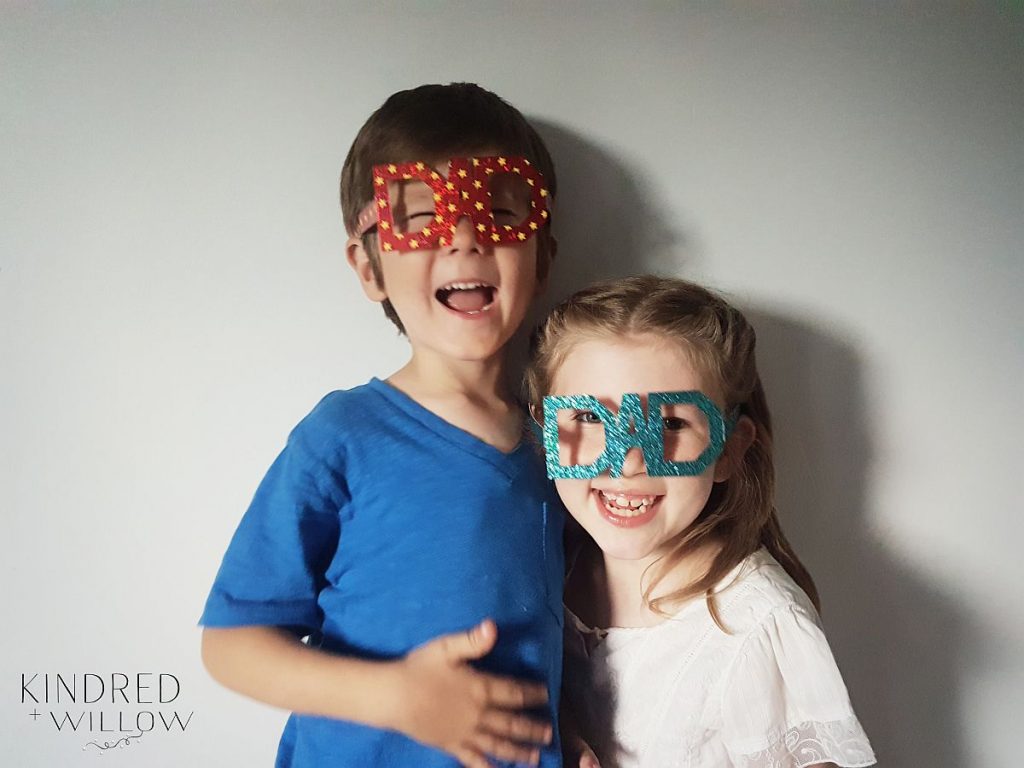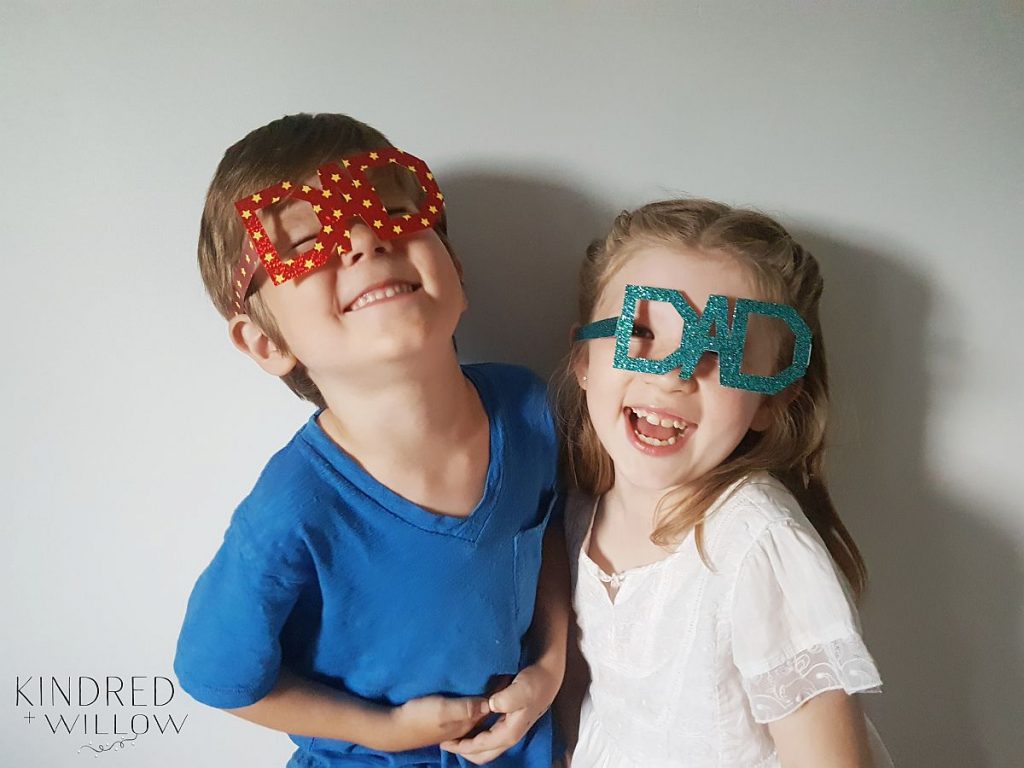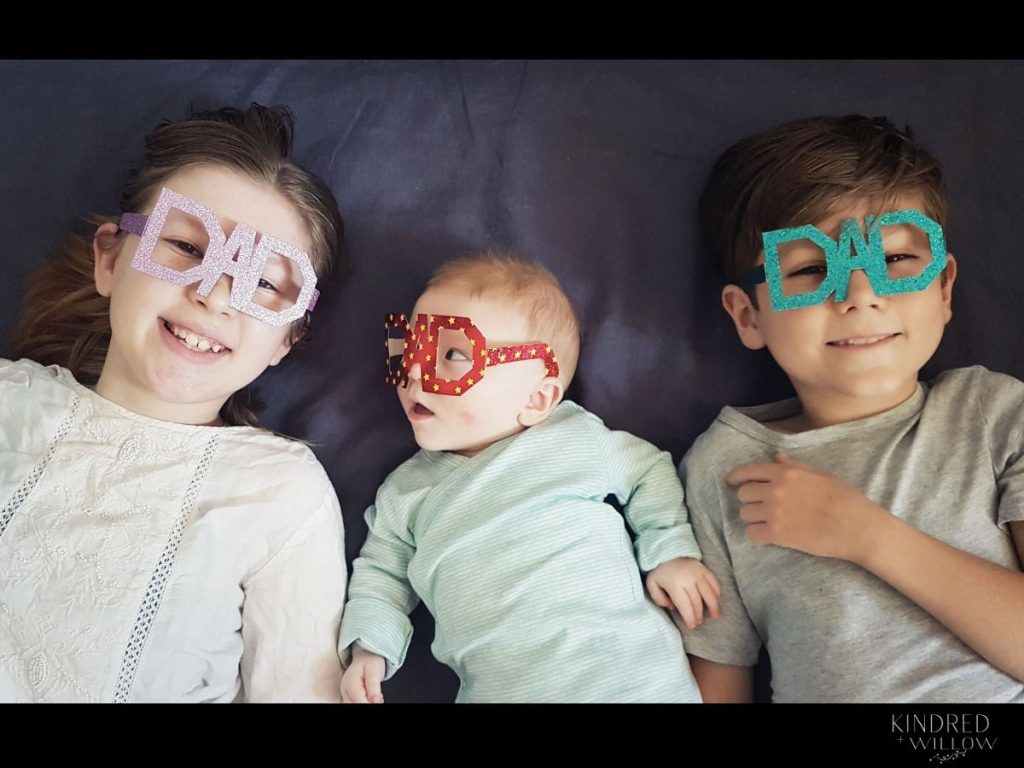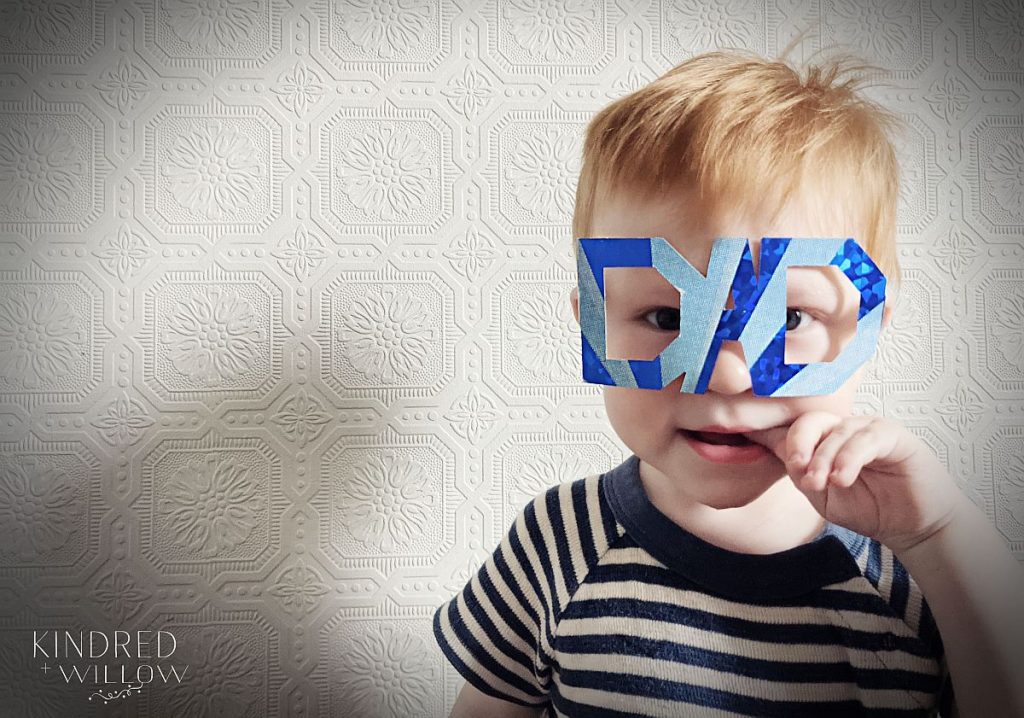 #2 – Formal Photoshoot Framed Photo
This gift idea for dad is by far the easiest, but one that dad will treasure! One year I got the kids dressed up in some formal attire (save for the soccer socks that A insisted on wearing with her tutu, haha), put up a sheet for a backdrop beside a bright window and took some shots with brother and sister together and then a few shots alone. No need to rush out to a photographer – a few simple portraits can be done at home to quite a nice effect! You could also add a more personal touch to your photos by having the kids hold a board – felt letter board, chalkboard, or simply written on paper – with things they love about their dad.
It makes a nice little gift to either do one print to frame or do a set of three or four smaller ones to place together. The kids' dad loved this photo gift along with the printable 'All About Dad' questionnaire that I helped them fill out for him. You can find these printables if you do a quick search online, I will also list the simple one I made at the bottom of this post. It is lovely and quite funny to read the responses the kids had to these questions when they were smaller.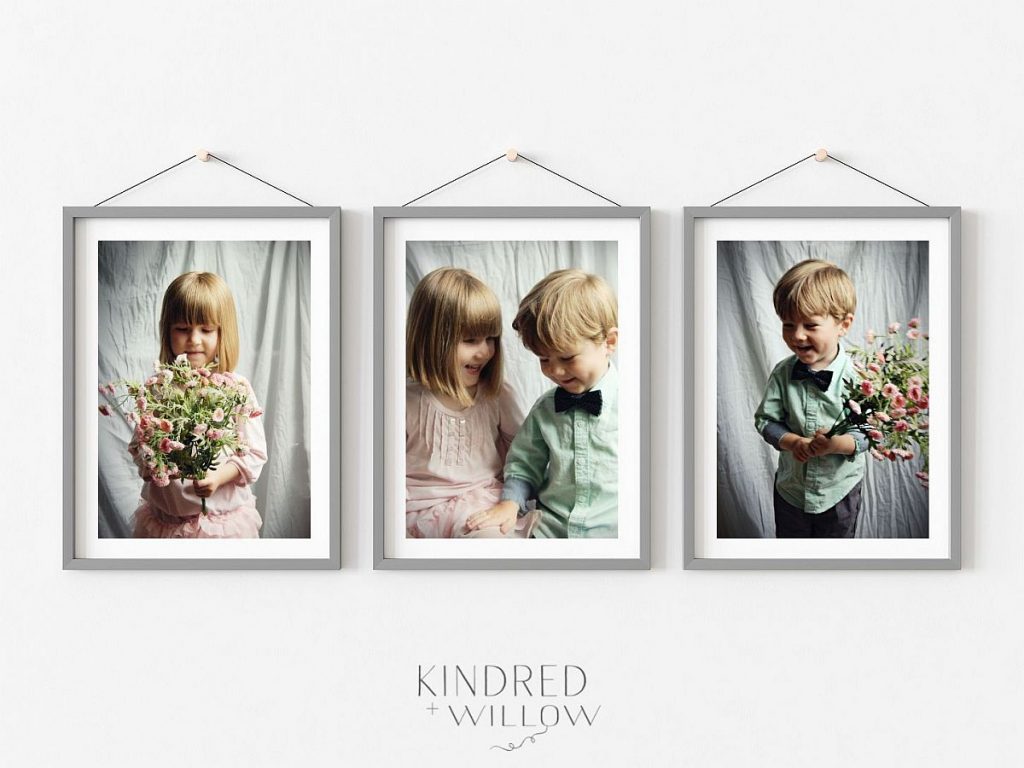 #3 – D-a-d Letters photoshoot t-shirt iron on
The same year we made the formal portraits we also did a little photoshoot with the kids spelling out 'DAD' for a t-shirt. It turned out quite cute, though there was a lot of bickering over those letters and who gets to sit on the stool! If you do this one, make sure you use something durable for the letters and not construction paper like I used as they barely lasted the length of the photoshoot, haha.
I decided to print the resulting photo on a t-shirt with an old-school 90s style iron-on transfer! It was fun to make at home and it turned out surprisingly really well. Alternately, you could also easily get it printed new-school using Vistaprint, Zazzle, Black's or something similar.
what you will need
Cotton t-shirt
Inkjet printer
Inkjet printer iron transfer sheets
Iron
Black cardstock for letters, or use wooden letters from a craft shop
Scissors
Canva or Picmonkey (or whatever program you like to edit photos in- these two are free, though some elements are subscription-based)
Good lighting – try to do your photos by a window with decent light coming in
A plain wall for backdrop or whatever backdrop you choose
how to make d-a-d iron on t-shirt
Set up your backdrop near a window with a good amount of light coming in or choose location outdoors.
Cut out letters from cardstock – I just free-hand drew them, but you could use a template for neater results! I found lots of printable letter stencils at stencilletters.org.
Have your well-rested, well-fed kids hold the letters whilst standing against the backdrop and snap lots of photos.
Once you're satisfied with your shots, upload them to your computer then edit them using free software such as Picmonkey or Canva. Alternately, you can edit them directly on your phone with apps such as Afterlight or Lightroom.
I used a collage function on Picmonkey and chose 3 to spell out D-A-D, but of course you can spell out whatever your kids call their dad…probably go with something nice. And something that easily fits across a shirt.
Print out on your ink transfer following the product instructions
Iron onto the shirt, again following the product instructions.
Surprise dad with his lovely shirt on Father's Day and then make him wear it to work on Monday.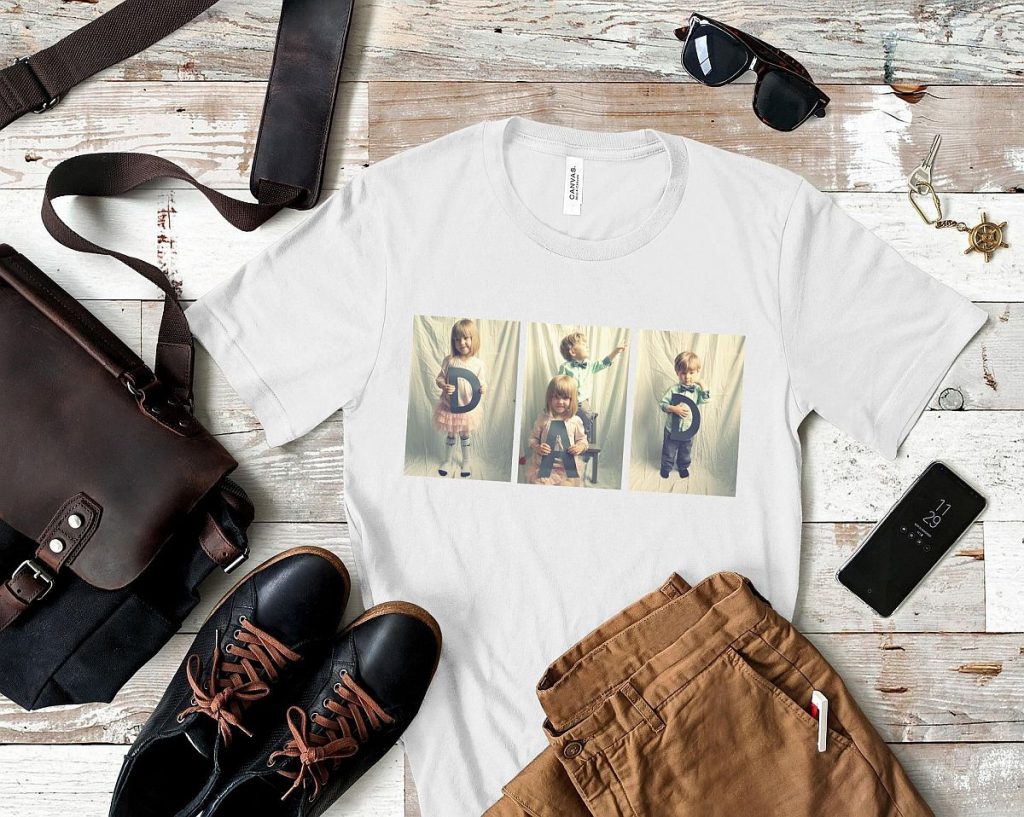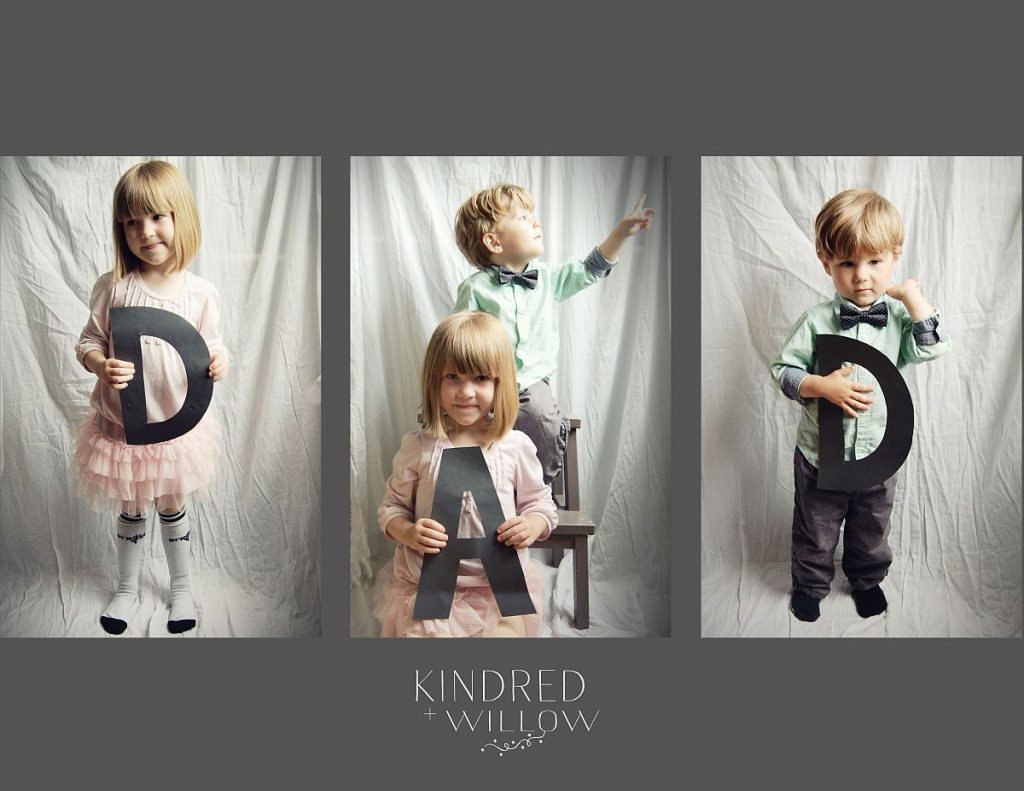 A few tips for taking kids' portait photos at home
Make sure kids are well rested and fed – it's not fun for anyone if the little ones are cranky and fed up five minutes into the shoot.
Natural light is ideal when taking kids' natural portrait photos – try to take them by a big window with lots of light coming in, though not so they are in direct light – you want to aim for that nice, soft light falling on them. Outdoor photos are lovely too, just make sure you're in indirect light.
Use a plain, neutral background – keep it simple here as you don't want anything too distracting or harsh – I've used sheets, a bit of linen fabric or just a plain wall and they've all worked nicely.
Keep the shoot as short as you can – kids get fed up with this quite quickly, so you need to try and get as many photos as you can in a short time!
Take many more photos than you think you need – especially if you're working with more than one child – it's tricky to get them in the frame, not blurred, with eyes open and smiling – so make sure you end up with lots of photos to choose from.
Do some simple edits using free photo editing software such as Picmonkey or Canva. Often it just takes a little cropping and adjusting the exposure and contrast to make your photo really pop. Picmonkey and Canva are also great for making photo cards as they have many templates to choose from.
To get the most natural and true-to-personality portraits, keep it light and fun – sing songs, joke around and let the little ones play – there is nothing lovelier than capturing images with natural smiles and expressions and their true personalities shining through!
Dad questionnaire Printable for kids
This is a fun little questionnaire for little ones fill out and answer questions all about their dad! There are lots of these printables around on the internet, but I just thought I'd include one here to make things easy! Just click on the image below to download the sheet and then print it out.
Please click on the image below to download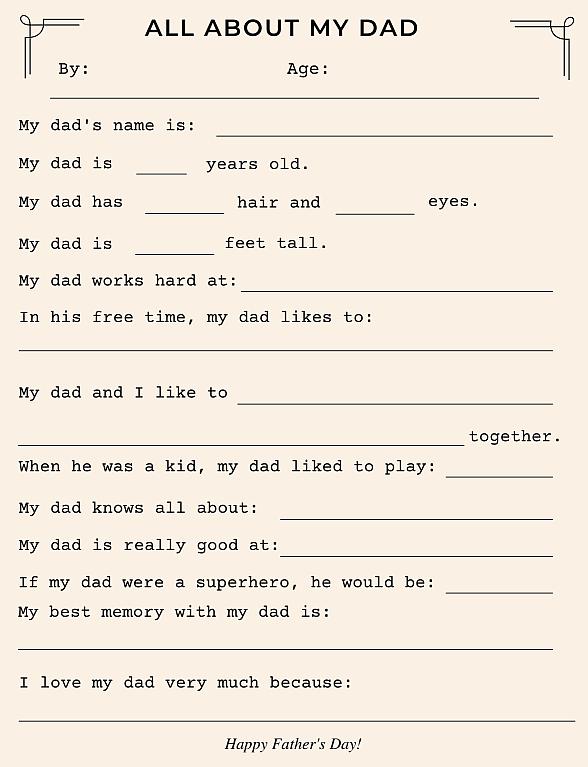 Photoshoot outtakes!