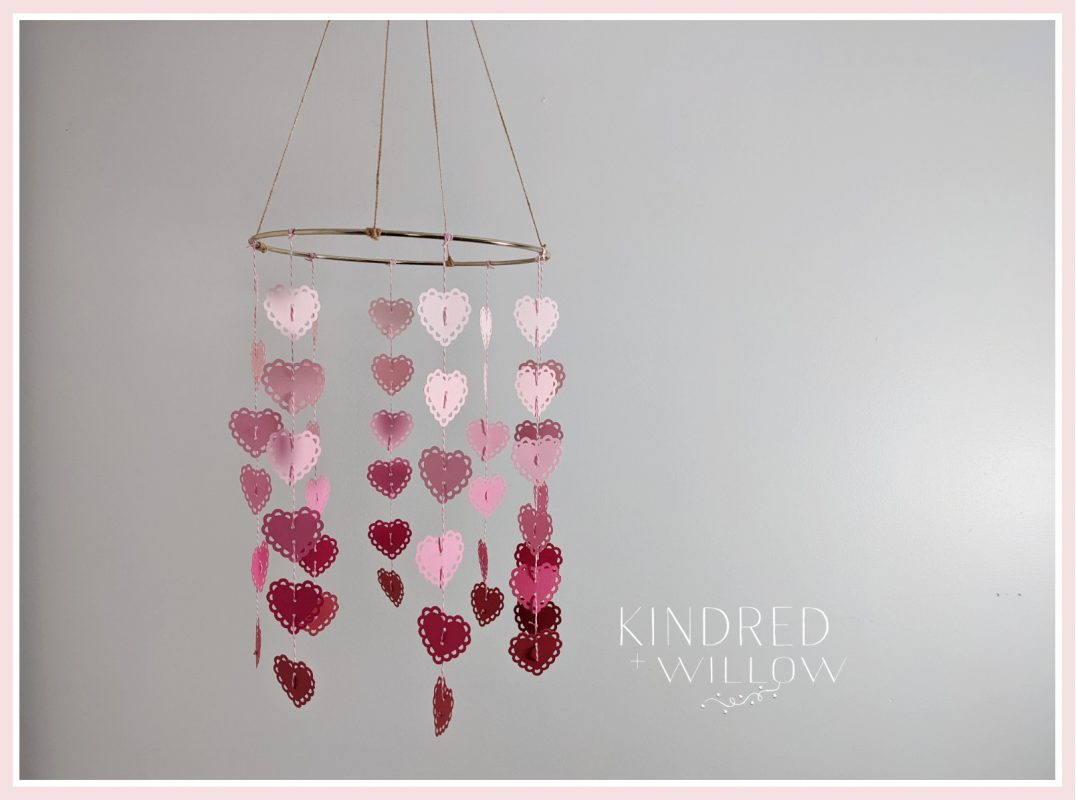 This paper heart mobile is just about the easiest mobile you could make and turns out so very pretty!
If you're looking for a sweet little gift to make for a new baby's nursery, or decoration ideas for a Valentine's party, this is the post for you! You can make this mobile in no time at all and since it is mostly made with paper it's also very inexpensive, and you might just have everything you need on hand already!
making hearts using paper punch or die cutting machine
I used a paper punch to cut out the hearts for the mobile – there are many options for paper punches out there. You can check out options at craft shops such as Michael's, art supply stores or of course, Amazon.
For my birthday I was so fortunate to receive a Cricut Maker die cutting machine (so grateful, yet a bit terrified at the same time!) and so for my very first project I decided to stick to something really easy and manageable whilst learning how to use the machine – a page of hearts similar to the ones I cut out with my old paper punch. So happy to say, they were a success!
If you have access to a Cricut machine and would like to use my heart page SVG, please see the bottom of this post to get a copy. Personal use only, please! Not to be copied and redistributed anywhere else (for free or purchase), thank you.
paper options
I made the mobile above with hearts gradating in colour from light at the top to dark at the bottom and the supply list will reflect that. You can choose whatever pattern and colours you'd like, of course! Experiment with different kinds of paper, or make from recycled materials such as magazines or pretty packaging paper – anything goes, really!
what you will need to make a paper heart mobile
Cardstock – 6 shades from light to dark – made mine with lightest pink to red
Mobile ring – I used a gold one with a 9 inch diameter – found at craft or bead stores
Twine – Two lengths of twine that are 50 inches long each
Baker's twine – I used pink and white – cut eight – 16 inch strands
Paper heart punch
Hole punch with capability of punch small holes – I use a leather punch
Alternately, use Cricut die cutting machine instead of paper punch + hole punch
White glue (optional)
paper heart mobile tutorial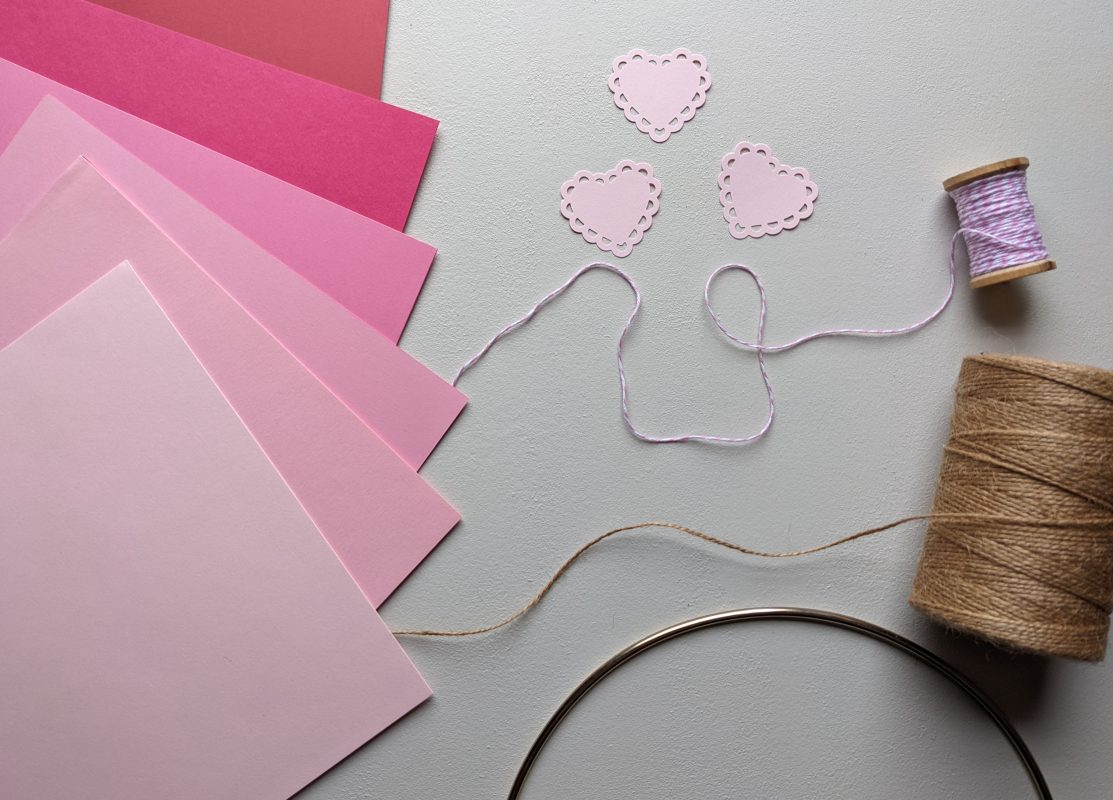 Making the paper hearts
1. Choose six shades of cardstock – I chose varying shades of pink and red. Cut out paper hearts (either using a paper punch or Cricut machine) – you will need six hearts in each shade. Feel free to add more or less, depending on the look you're after!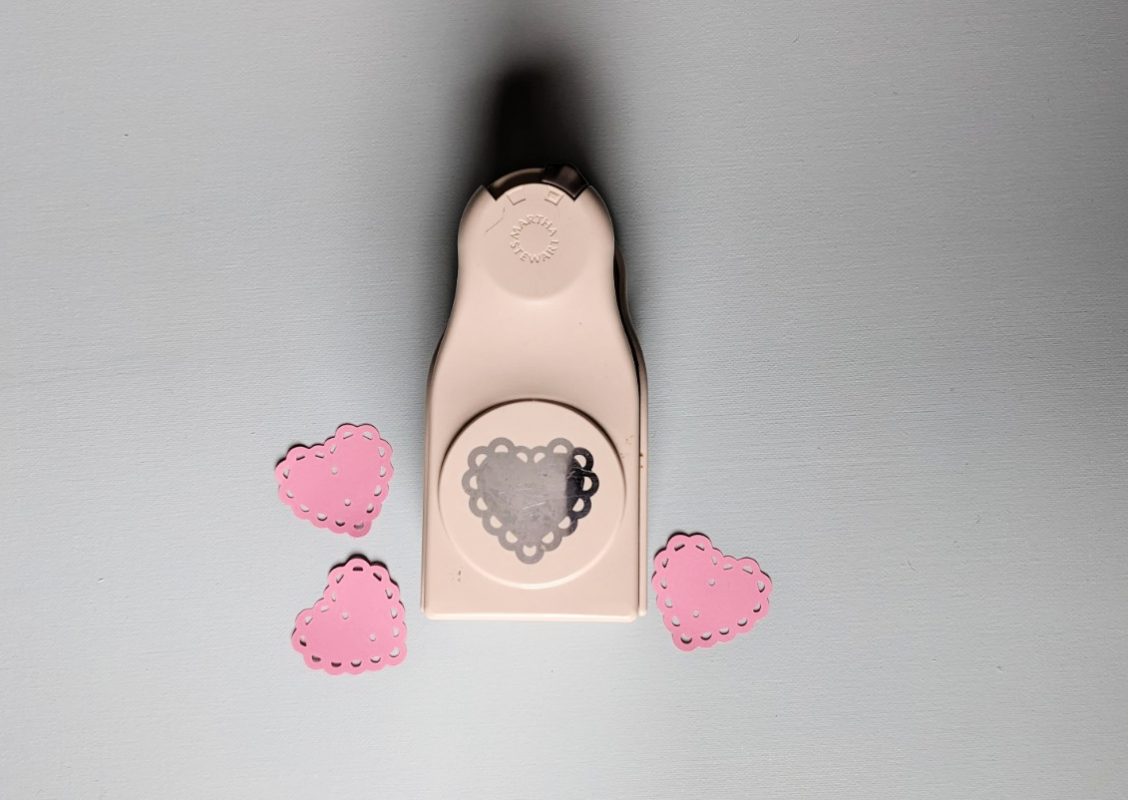 2. Punch two small holes vertically on each heart. I use a leather punch that works really well for this, but if you don't have one, you can also just make holes using a large needle or an awl.
Alternately, if you don't have a paper punch and would like to cut hearts on a Cricut die cutting machine, please see the bottom of this post for my free paper heart SVG. If cutting hearts on a Cricut, the centre holes will be made for you.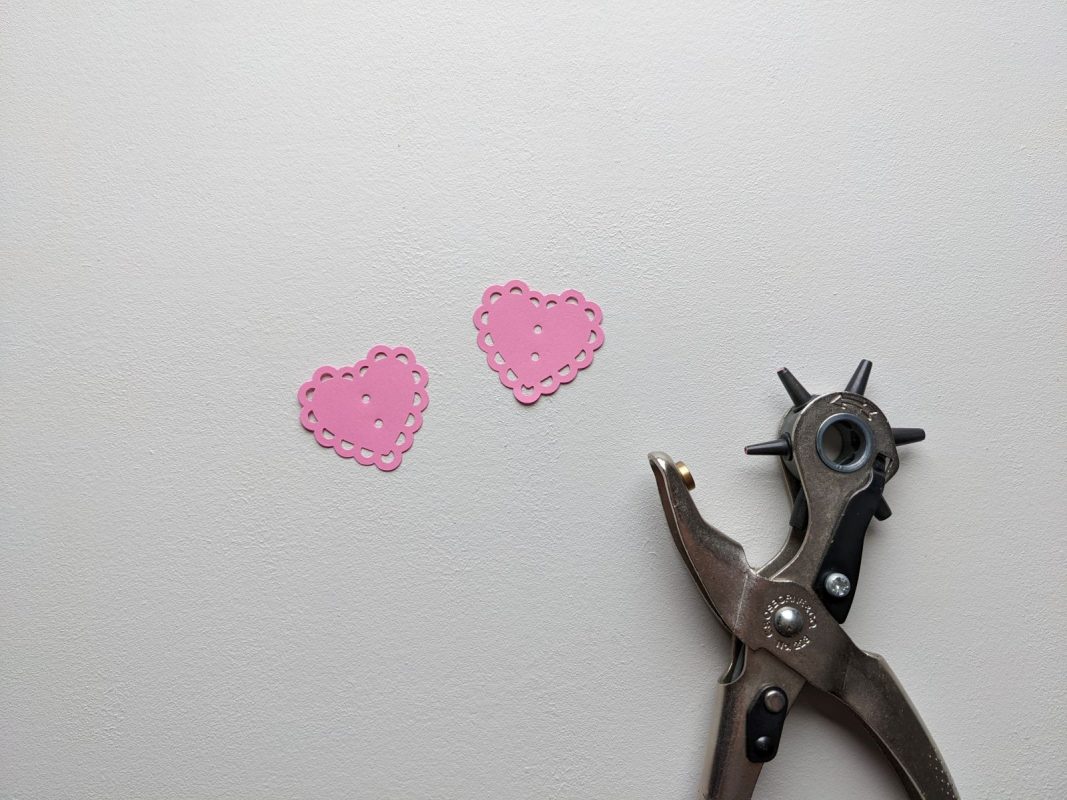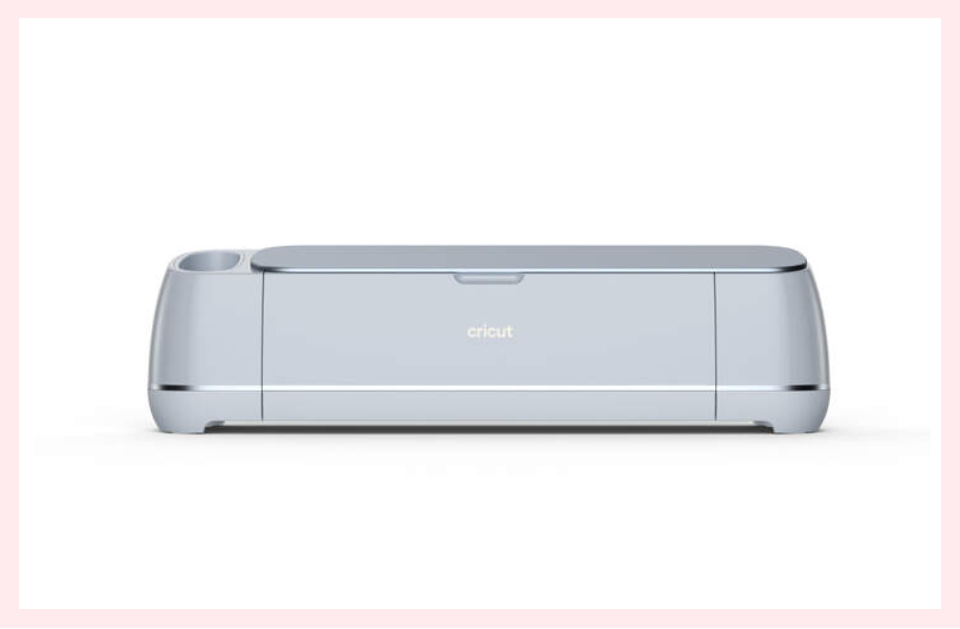 After all your paper hearts are ready to go, gather all other supplies – metal hoop, baker's twine, natural twine, scissors and white glue (optional).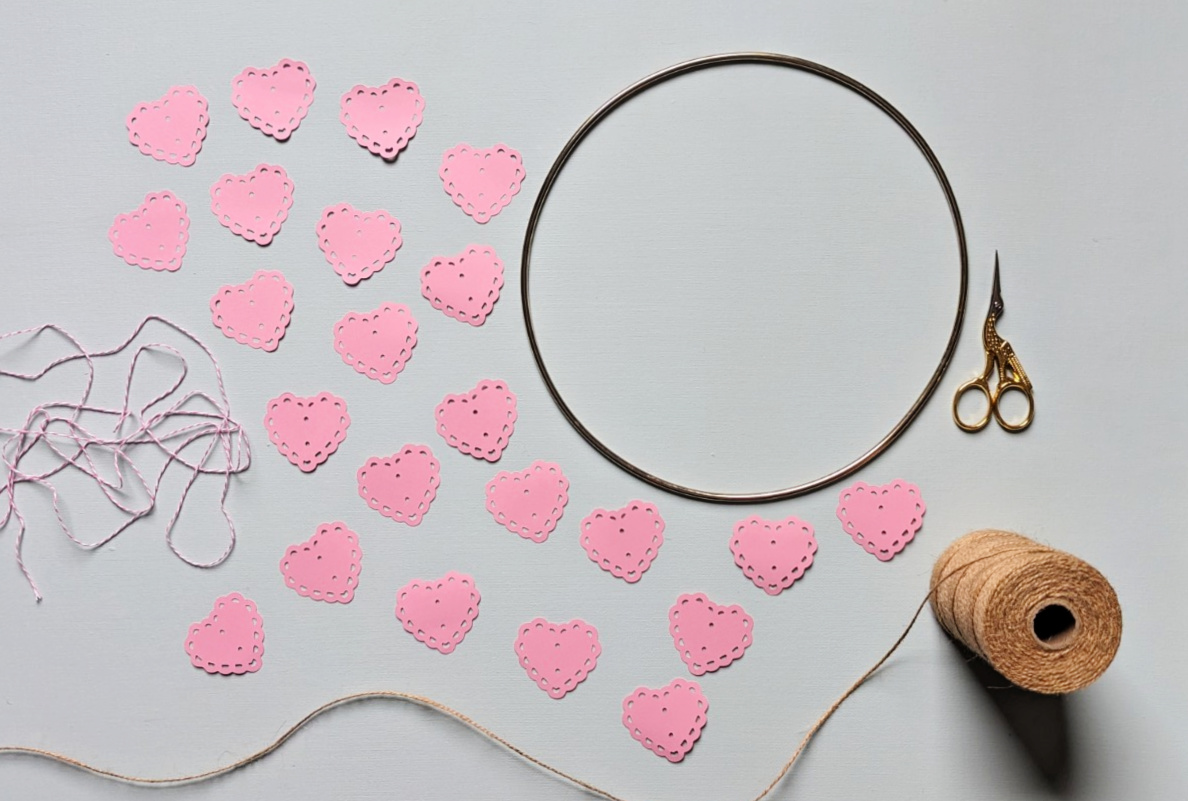 Making mobile base – attaching twine to hoop
We'll start making the mobile by attaching the natural twine to the metal hoop.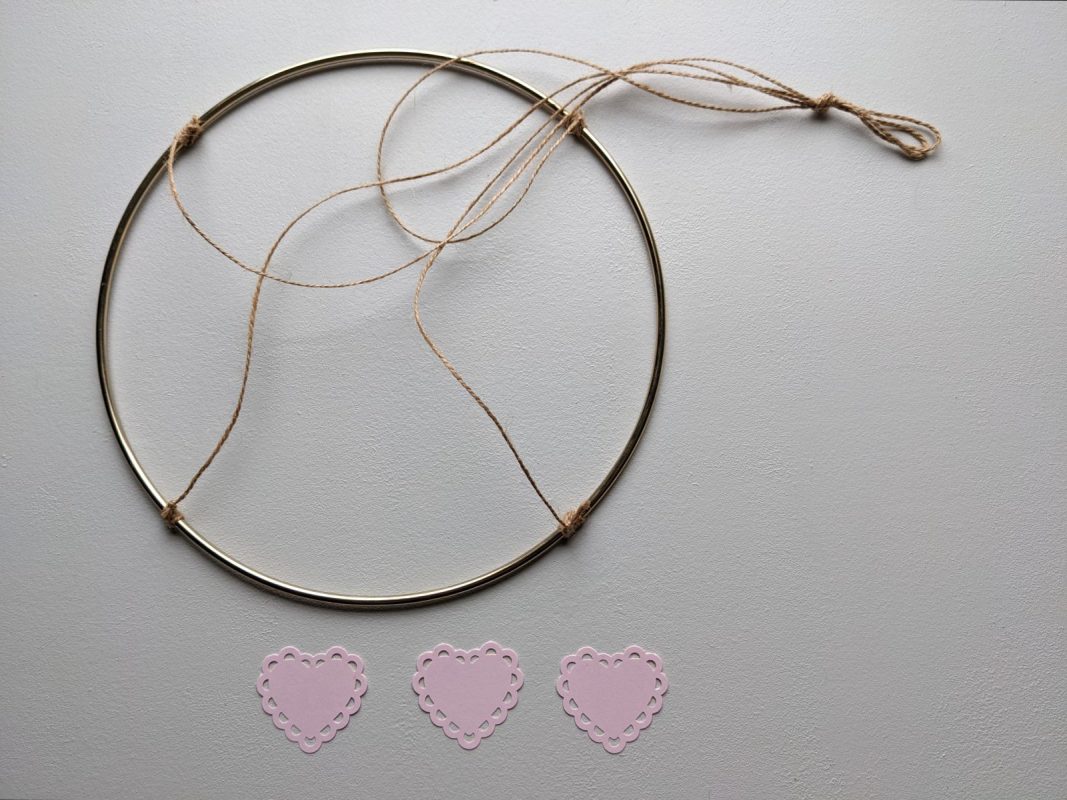 1. Cut two lengths of natural twine that are each 50 inches long.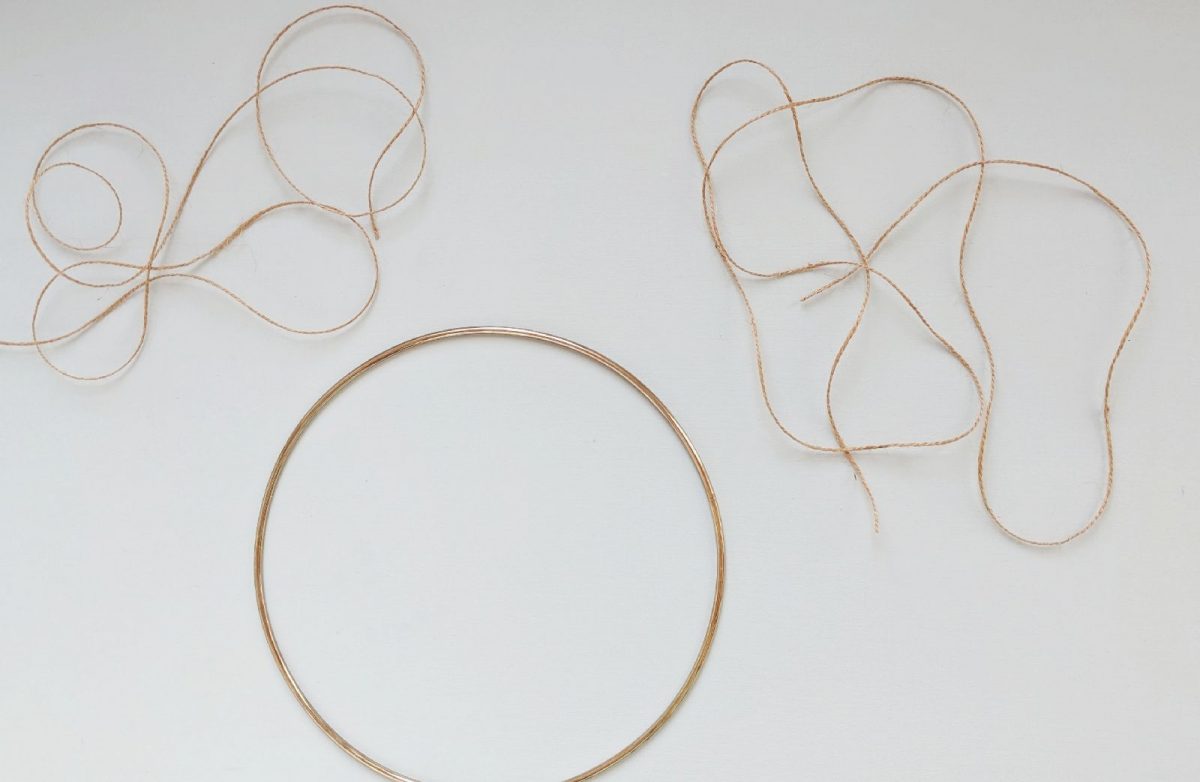 2. Wind the twine around the hoop 3-4 times, leaving a few inches for tying. Tie a knot and then another knot to secure. You can add a little dab of white glue to further secure the knot and keep it from sliding out.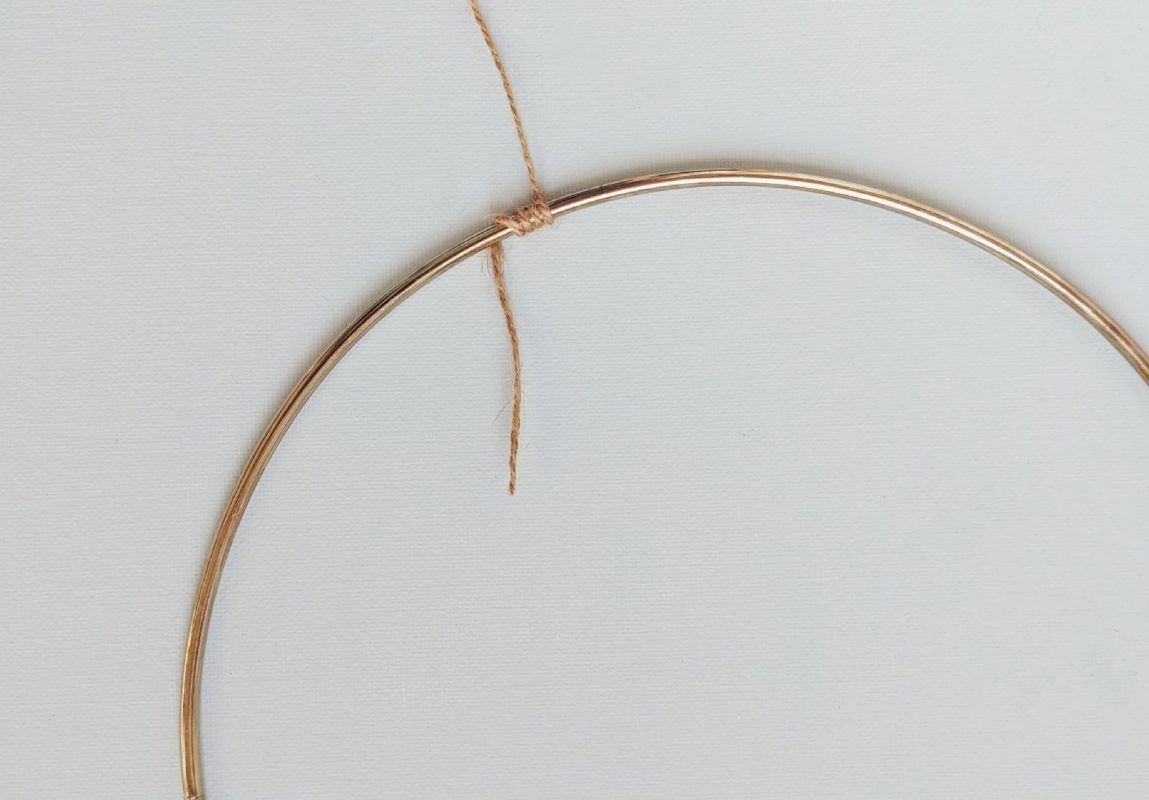 3. Attach the other end of the twine across the hoop from the knot you just tied. Secure in the same way as the first knot.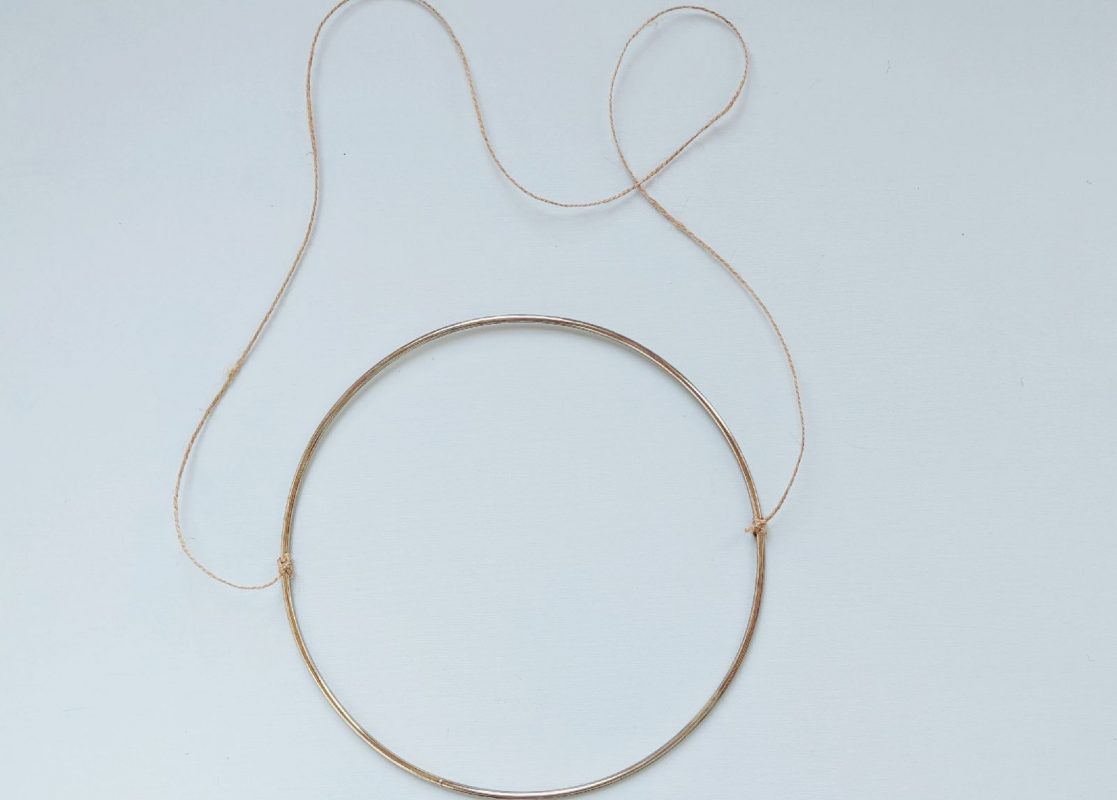 4. Attach the second piece of natural twine on the hoop at a 90 degree angle to where you tied the first two knots, so you will have knots equally spaced around the hoop, ensuring the mobile will balance.
You will now have twine tied on four points around the hoop (image below)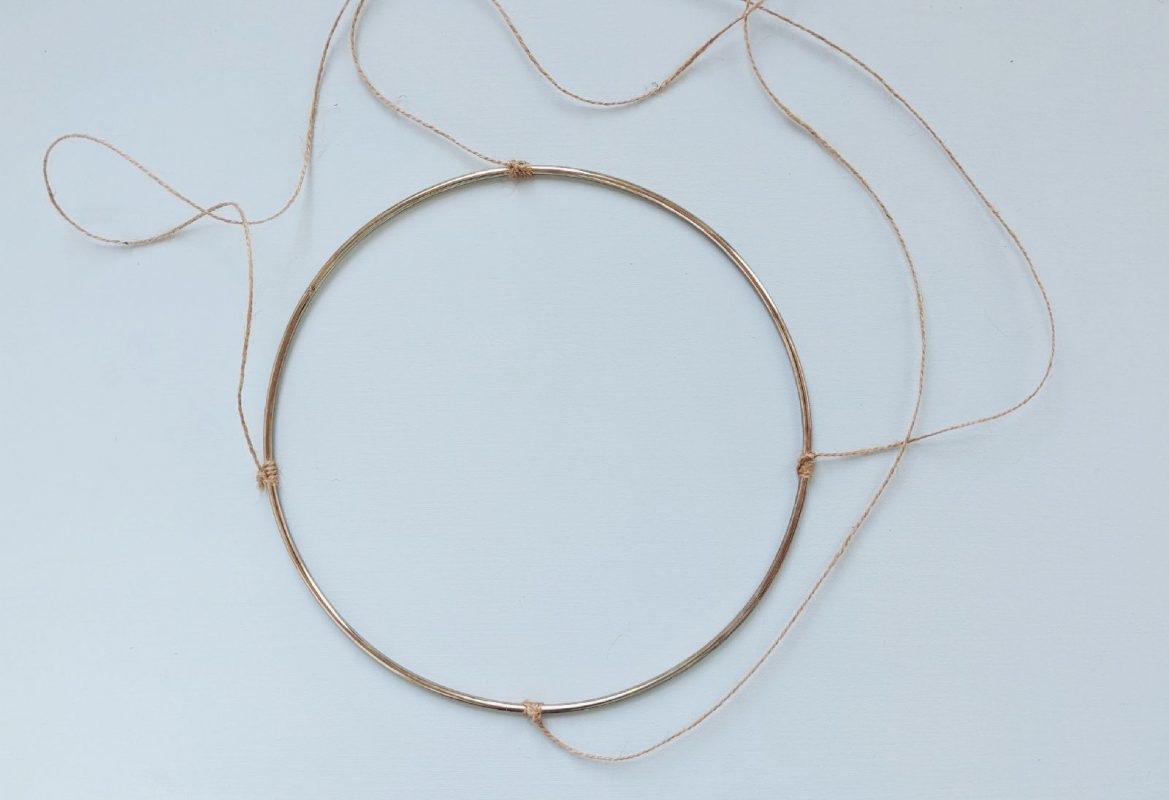 5. Gather the twine together so that the pieces are even and then tie a knot so that you make a loop at the top that is about 2-3 inches long. This will be the hanging loop for the mobile.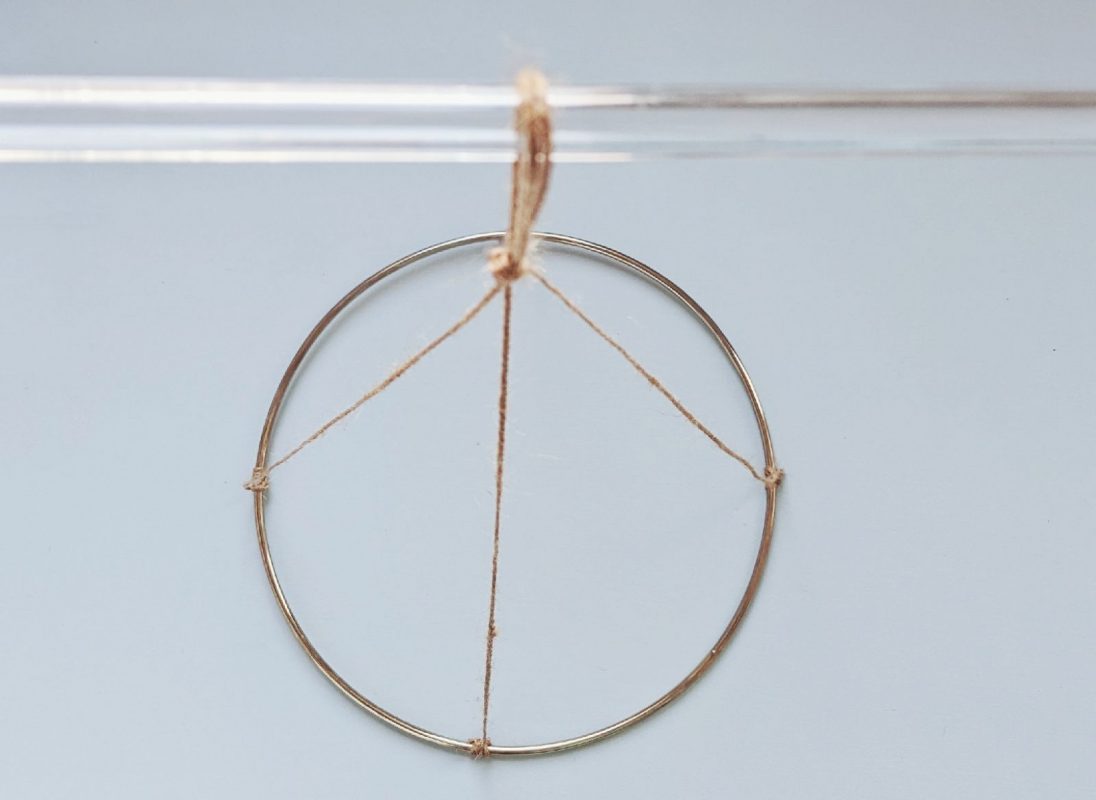 Once tied, the top loop will look like the image below.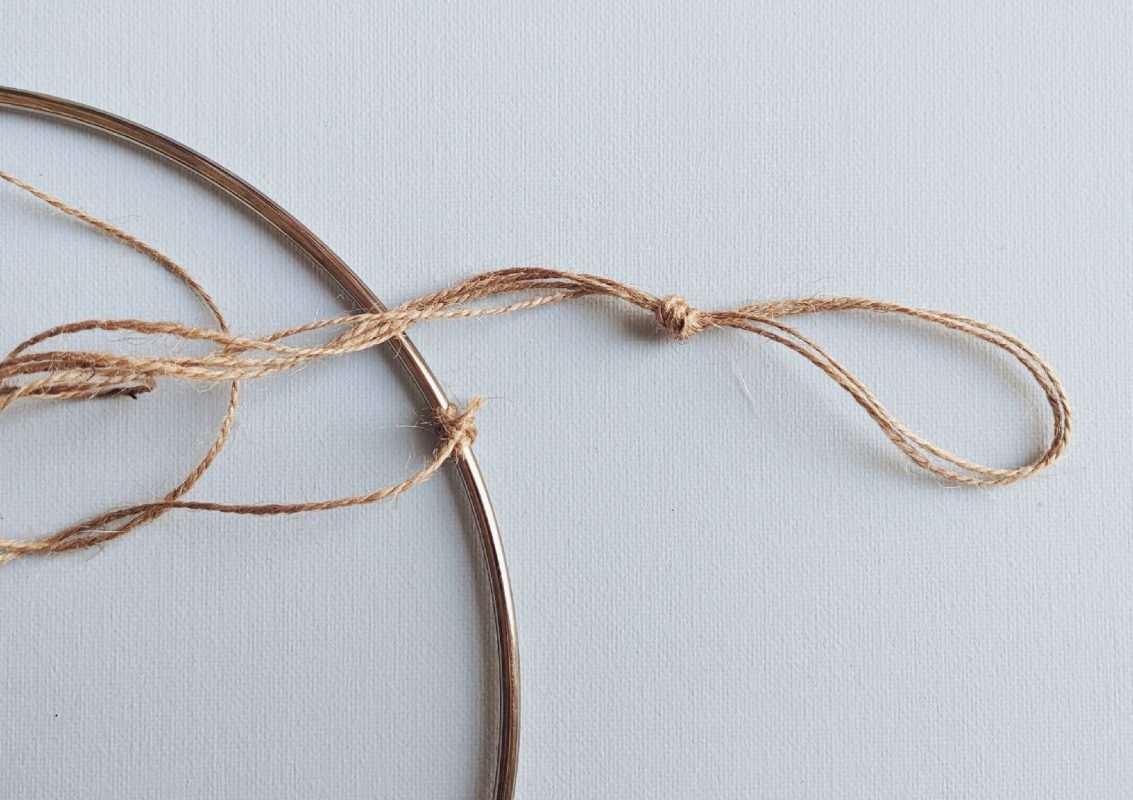 making strands of paper hearts & attaching to mobile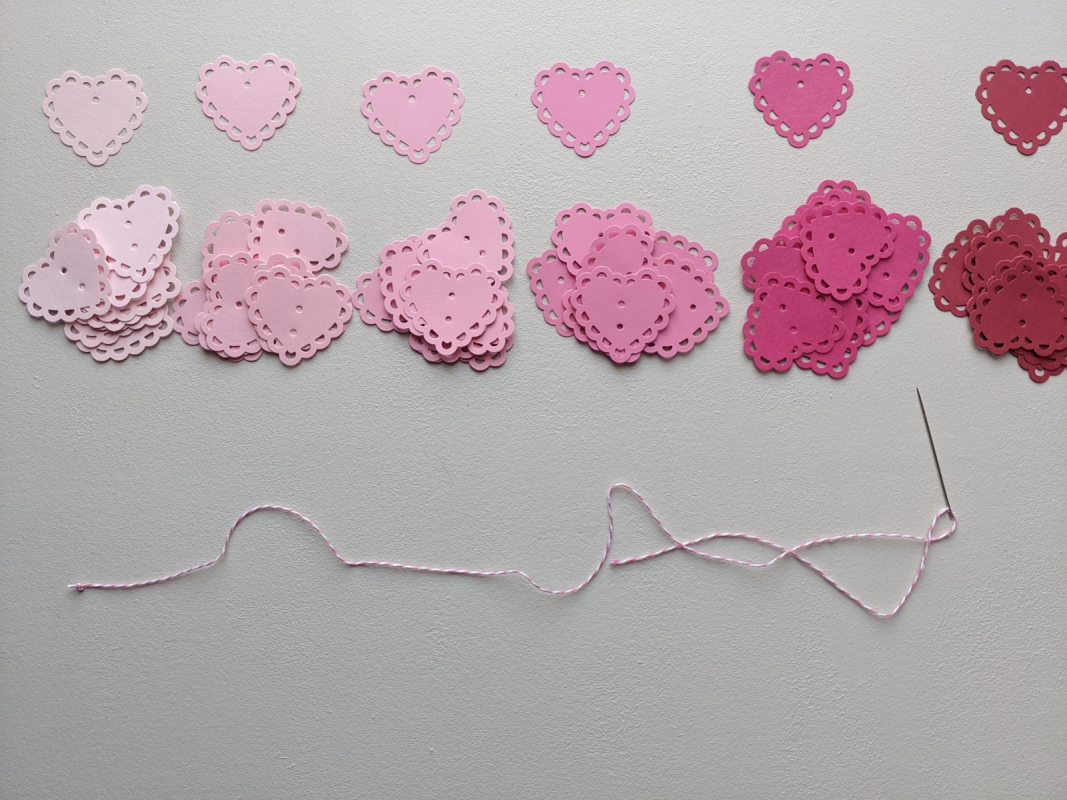 1. First decide if you want your hearts to go from light at top to dark at the bottom, or vice versa. Whichever you'd like at the bottom, you will thread that colour on first.
Thread your needle with a 16 inch strand of baker's twine (for 12 inch length when finished + 4 inches for tying onto hoop) and make a knot in the end that is large enough it won't go through the hole (will need to make knots on top of one another to make a larger knot).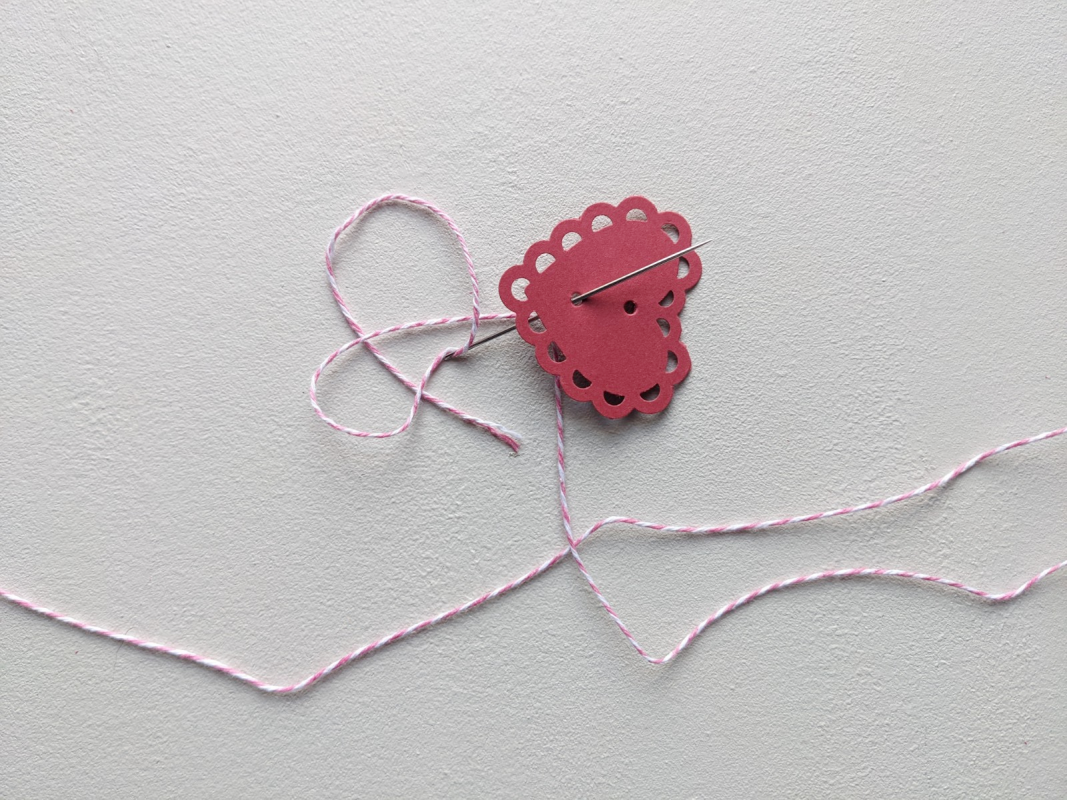 2. Start by coming through the back of the heart in the bottom hole and then back in through the top hole.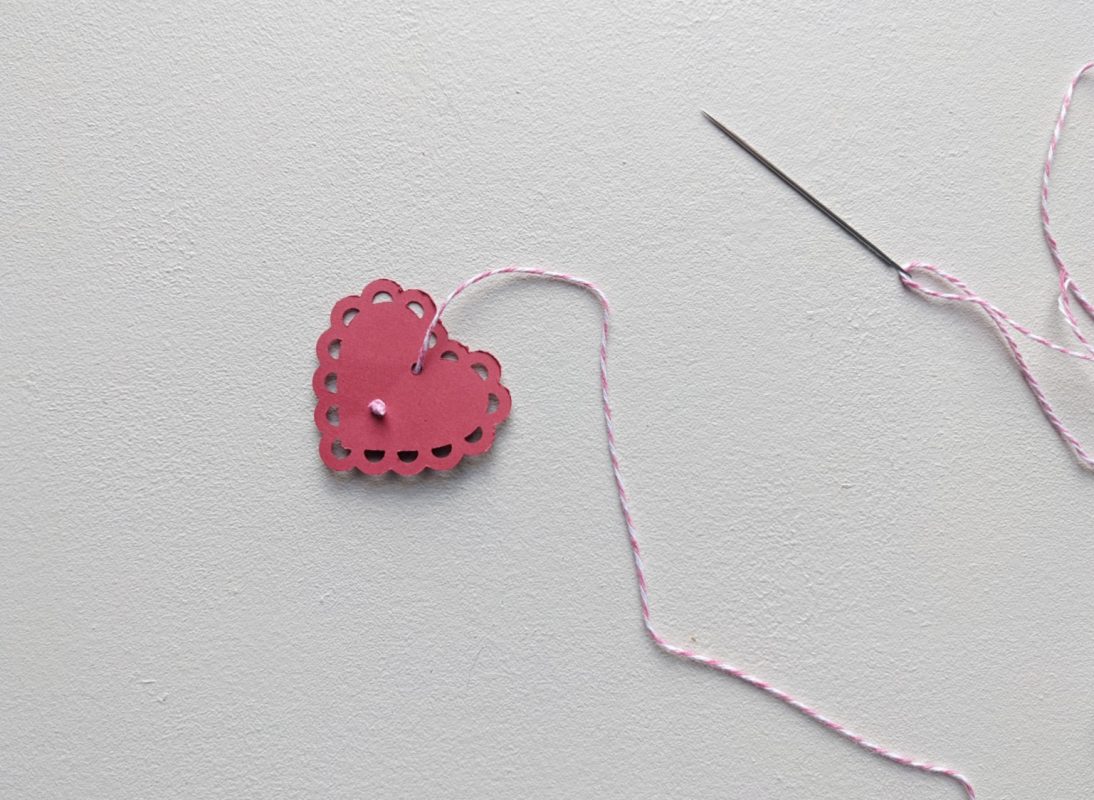 The first heart should look like the above image, with the knot at the back of the paper heart.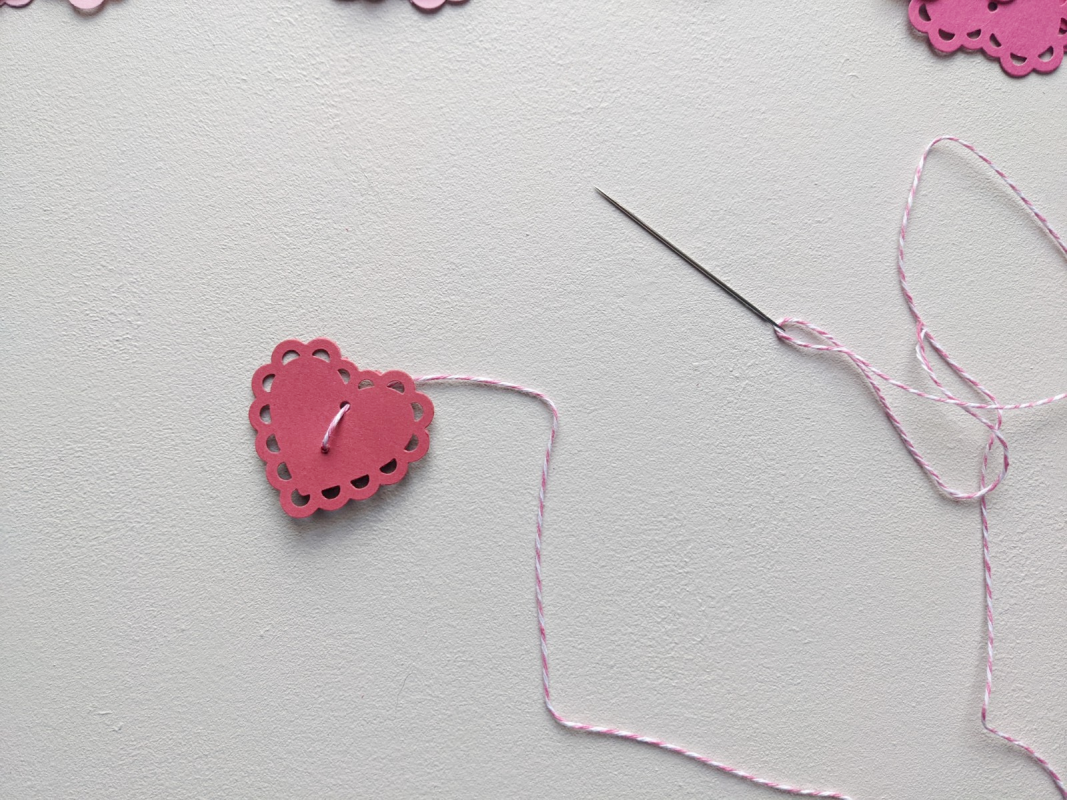 3. Add on another paper heart in the same way as you did the first, by pulling the baker's twine through the back and then into the top hole toward the back again.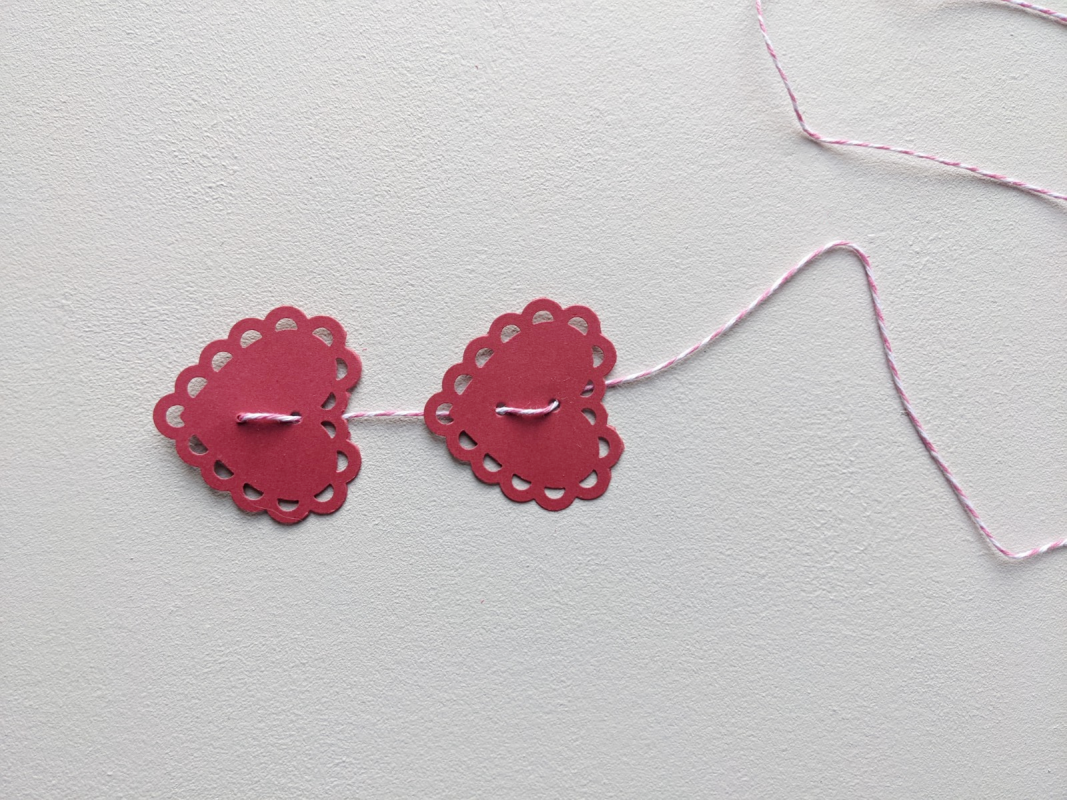 4. Continue adding on hearts until you have as many of each shade as you'd like. I did 6 hearts for each strand, going from dark at the bottom to light at the top.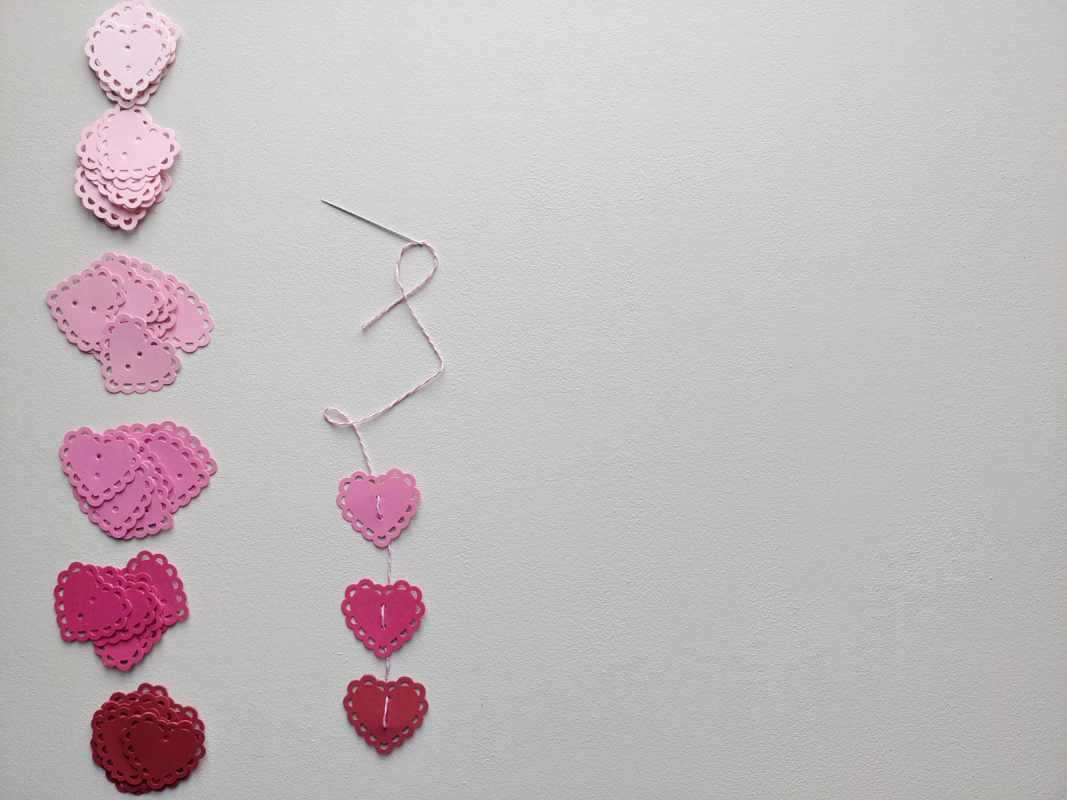 5. Continue making strands of hearts until you have eight strands total, or however many you'd like on your mobile!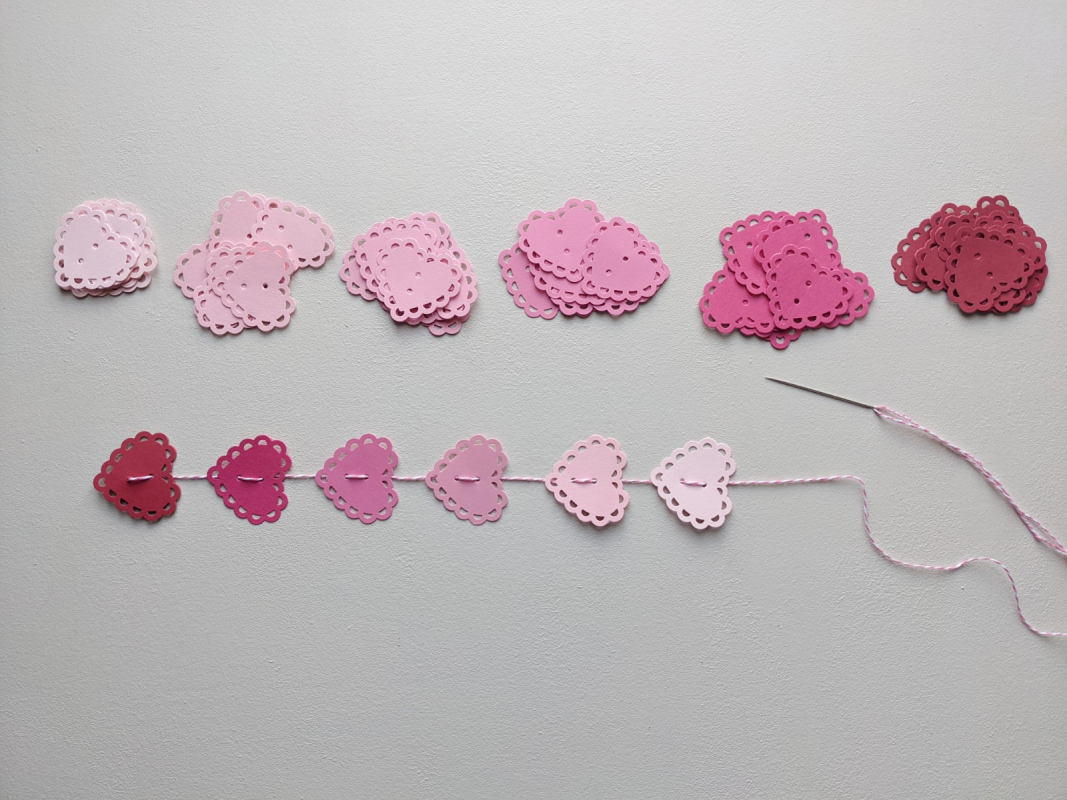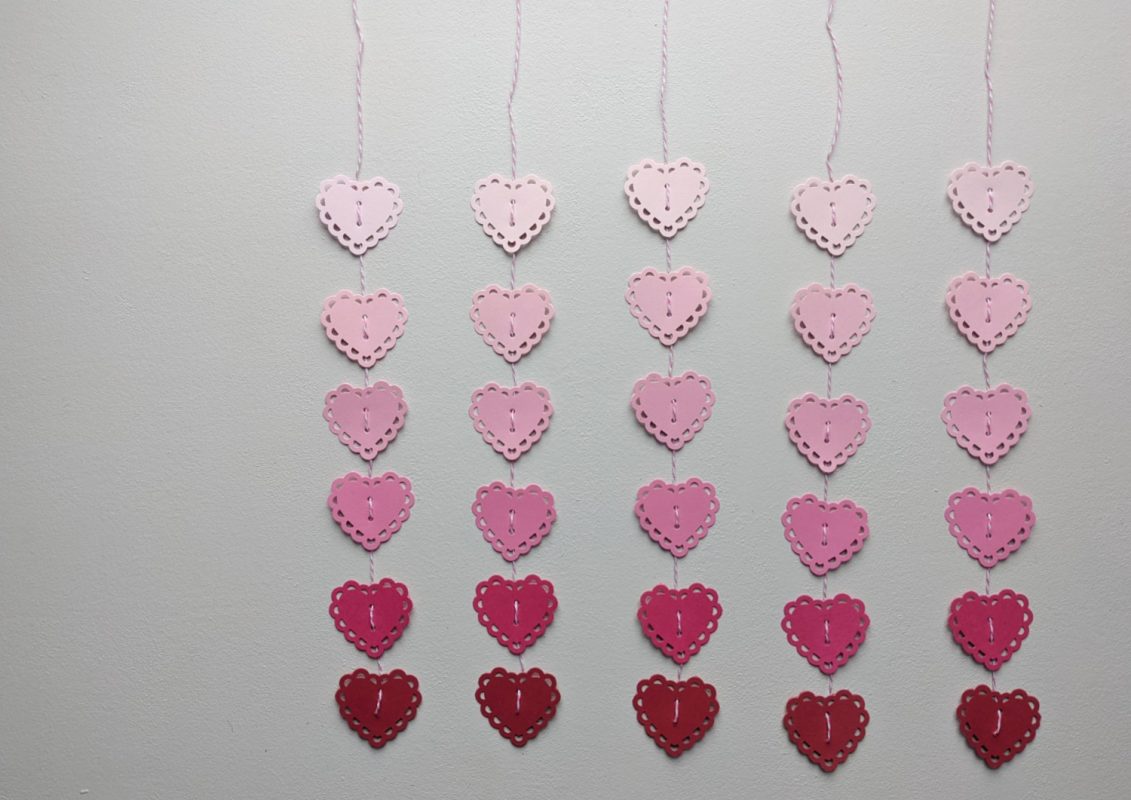 6. Now you'll tie each strand onto the mobile, between the places where you tied on the natural twine for hanging. I placed two strands per quadrant. Tie the stands on in the same way as you tied on the natural twine. You can add a little spot of white glue on each knot to secure it.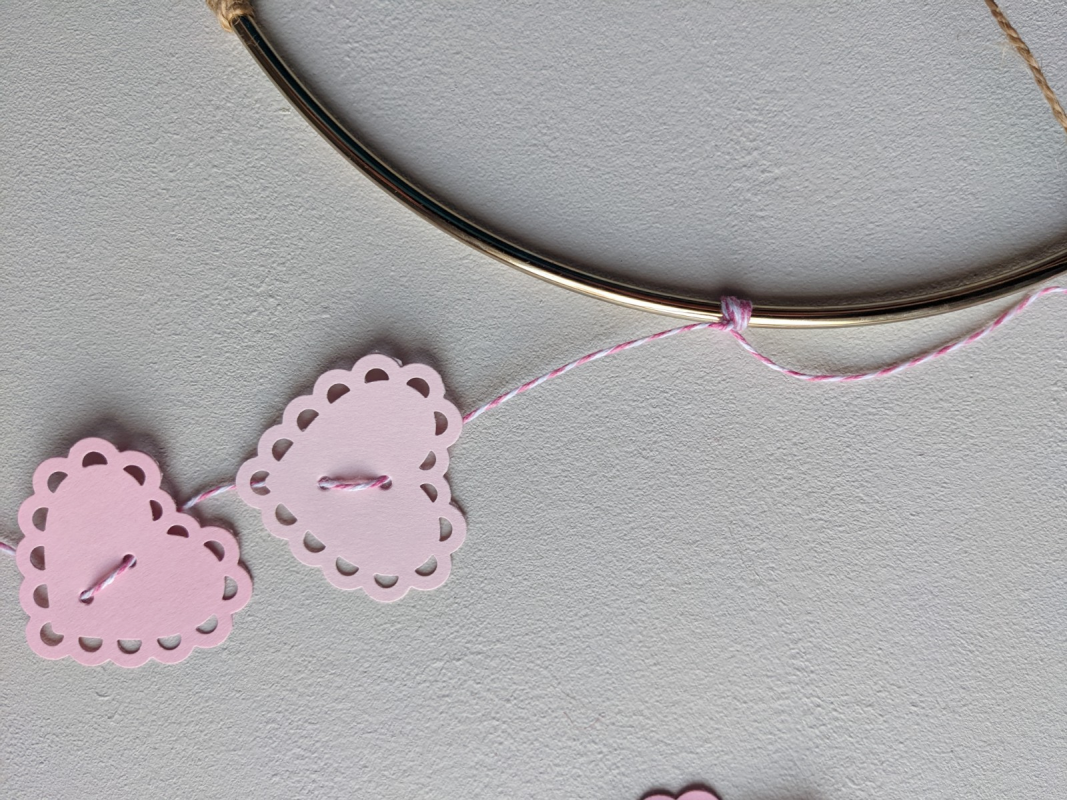 Your paper heart mobile is complete! Now find a lovely place to hang it or give it away to someone you love and warm their heart today ♥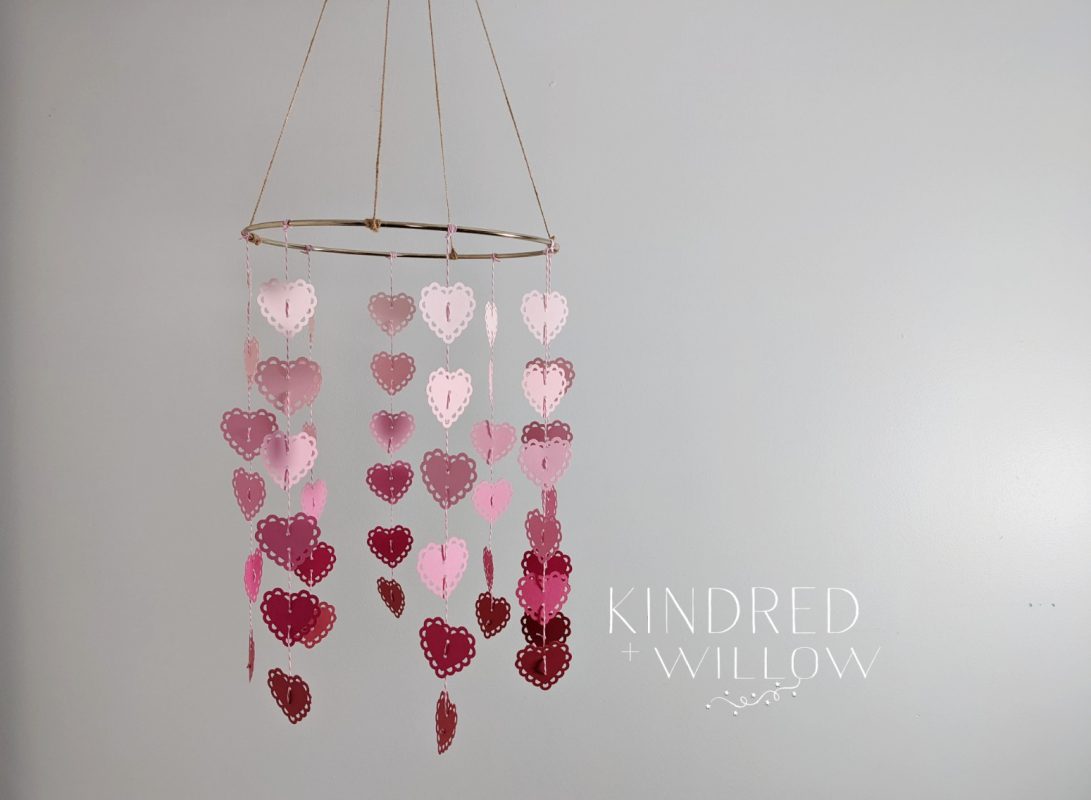 Please remember, if hanging mobile in baby's nursery always make sure to hang well out of reach of baby or other young children.
hearts svg for cricut Maker
To save the SVG, please click on the image and once the image opens, right click on the image and save it to your computer. Please scroll down for more info regarding making the paper hearts on a Cricut.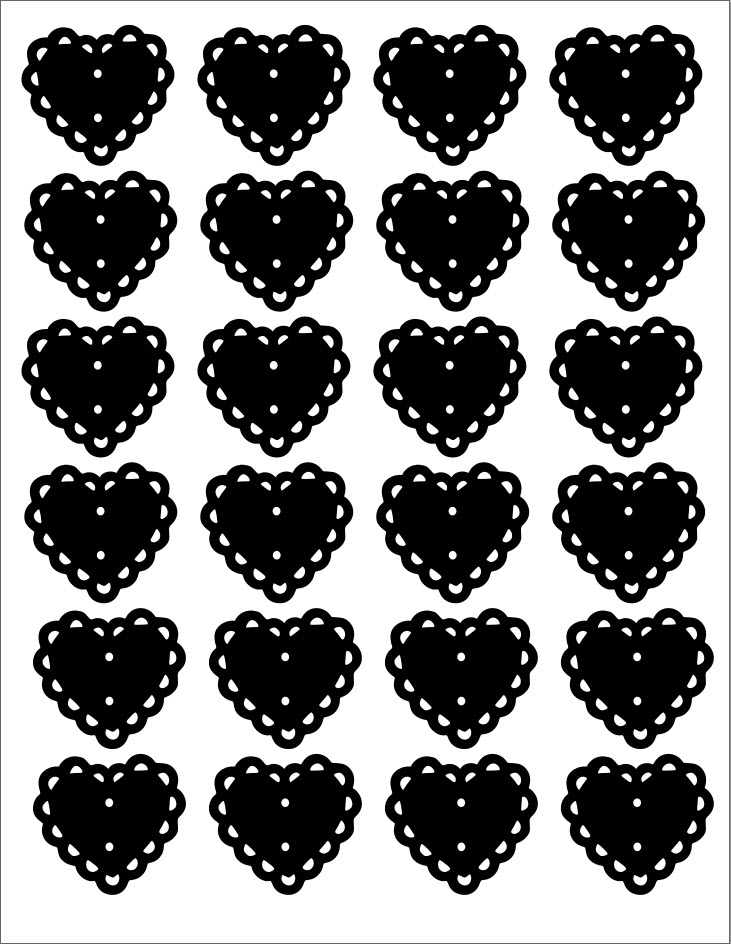 When making the hearts on a Cricut, I made the canvas size 8 x 10 and used an 8.5 x 11 inch paper (US letter size). (See image below)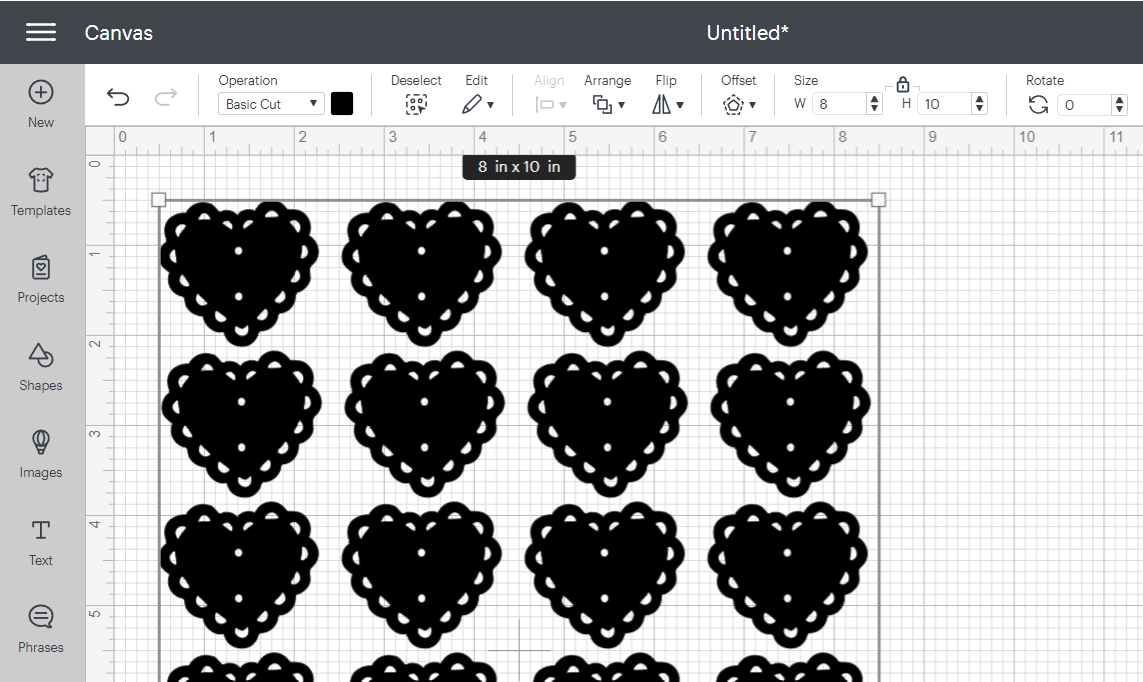 When selecting material size, select 8.5 x 11 in (Letter) in the 'Material Size' dropdown. I used the standard grip mat (green mat).