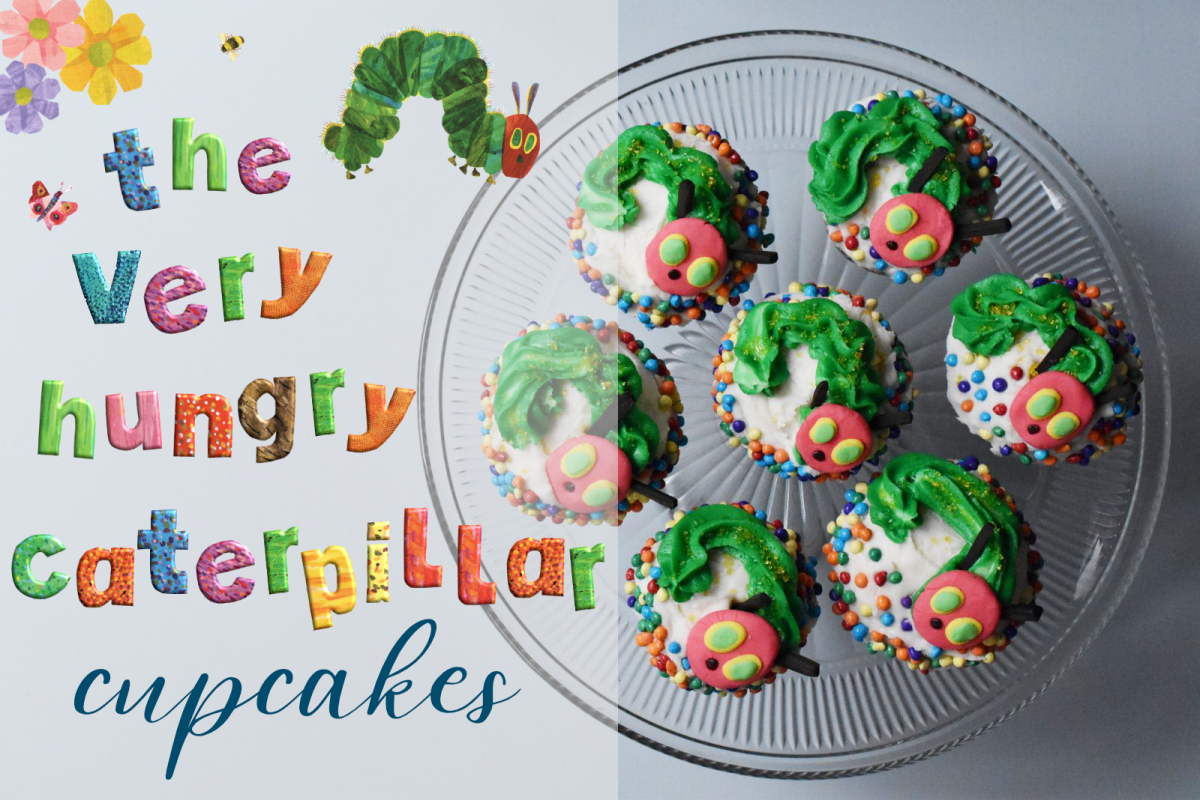 Our littlest one recently celebrated his third birthday and as a Very Hungry Caterpillar's superfan, I thought I'd try my hand at making Hungry Caterpillar cupcakes for the occasion. Being not very adept at cake decorating, I knew I wanted to keep things as simple as possible, while still coming up with something that at least resembled the famous little green and red guy!
The most time-consuming part of these is making the little faces, but even they don't take too much effort. You can make the faces ahead of time and then have them ready to pop on the cupcakes when you're ready to do the decorating.
While our older two didn't really take to 'cata-peeyah' (as he's known in our house) quite as much (maybe they came to the story too late), Arthur was quite taken with this ravenous little guy, and his tale of great hunger and subsequent transformation (spoiler!).. into a beautiful butterfly! He's now memorized the story and so 'reads' it more to us now than we do to him.
I think the cupcakes turned out pretty cute and are quite easy to decorate, so if you've got your own little Hungry Caterpillar fan at home, I hope you'll have fun giving these a try too!
how to make very hungry caterpillar cupcakes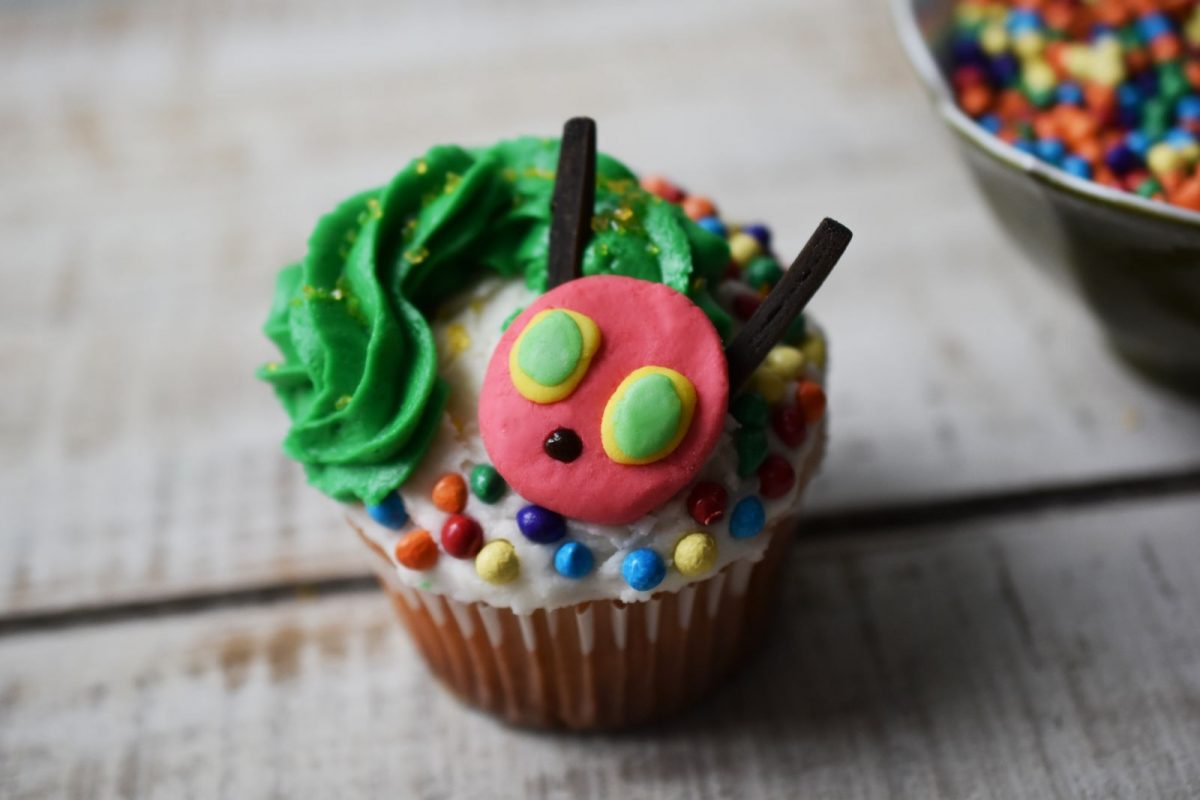 Cupcakes
Use your favourite cupcake recipe – I've used the Moist Vanilla Cupcakes recipe from lifeloveandsugar.com a few times now, and they've come out perfect every time!
Be sure cupcakes are well-cooled before decorating.
How to Make Very Hungry Caterpillar Faces
I used the same recipe as for the Candy Bones and Eyeballs I made at Hallowe'en which make a moldable icing that hardens when left to air dry. You can make the faces ahead of time and keep them in a container in the fridge until needed.
ingredients
2 cups powdered sugar
2 tablespoons meringue powder
6-7 teaspoons water
Parchment or waxed paper
Tray
Red, green and yellow food colouring
Soft black licorice, such as this Australian Licorice
METHOD
In a medium bowl, mix together powdered sugar and meringue powder. Slowly add the water teaspoon by teaspoon until the mixture forms a dough. Start out mixing with a spoon, then use your hands to mix. Knead dough until smooth.
Divide dough into 3 portions – two smaller amounts and one larger. To the largest portion, add red food colouring, as much as is needed to make it a deep red. Mix until the dough is uniformly red.
I first mixed the dough with a spoon but then kneaded it with my hands to get the colour to mix in thoroughly.
Be sure to wash your hands between mixing colours!
Do the same process for the two smaller portions of dough, making one green and one yellow.
NOTE: Keep the dough covered when not in use as it dries out quite quickly!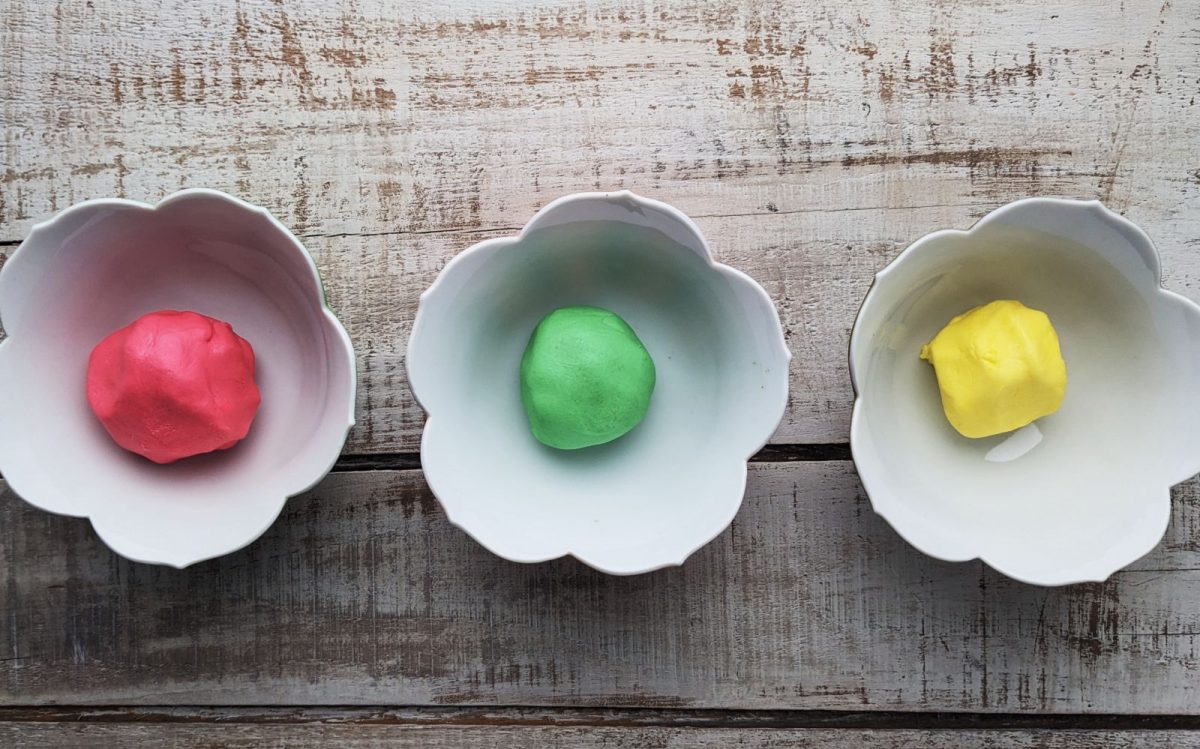 Making the hungry caterpillar head
Take a small portion of the red dough and roll into a ball, then flatten to a small oval/disc shape. Only make a few heads at a time as you don't want the dough to dry out before you're ready to add the eyes and nose.
Make sure you make the ovals small enough that they'll fit on a cupcake, keeping in mind you'll need room to fit the caterpillar body too. The ones I made were about 1 inch across by 1.25 inches tall.
Place ovals on a parchment paper covered tray, ready to add the eyes and nose.
making the hungry caterpillar eyes
Roll tiny balls out of the yellow dough and flatten to a small oval/disc. Do the same with the green and then place the green on top of the yellow.
putting the hungry caterpillar face together
Place the assembled yellow and green eye pieces onto the red face piece and press down gently to secure. If they're not sticking, just take a drop of water on your finger tip and tap on the back of each eye and then try attaching to the face again.
For the nose, cut or pinch off a tiny piece from the soft black licorice and press into the face just below where you've placed the eyes.
Set aside to let air dry for a few hours. Make sure to be gentle when handling these as they're quite delicate until they dry!
If making ahead of time, the faces can be stored in a container in the fridge until ready to use.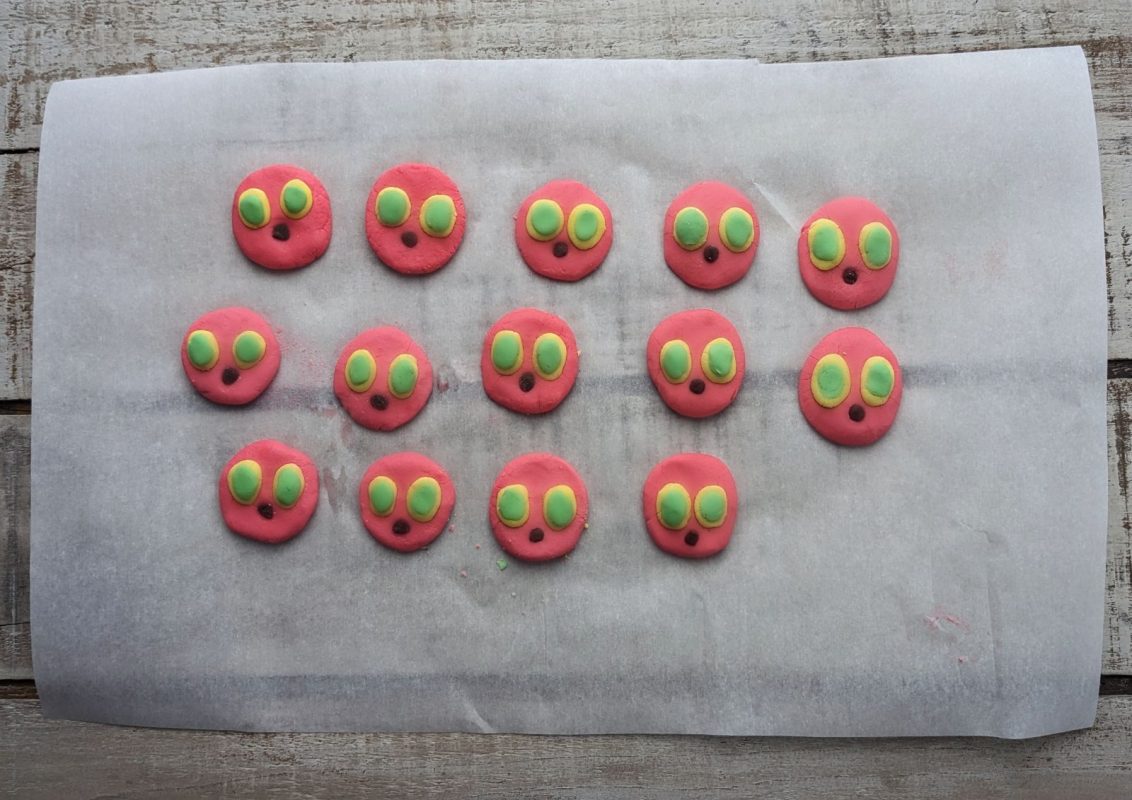 How to Decorate the Very Hungry Caterpillar Cupcakes – Putting It All Together
I was attempting to make the caterpillar bodies in a two-tone/ombre kind of look akin to Eric Carle's lovely Very Hungry Caterpillar artwork. Not a complete success on that front as the two colours didn't really come together until the last few cupcakes I decorated. Feel free to play around with the colours yourself, or just go easy on yourself and make them all in one shade of green!
Keeping with the style of The Very Hungry Caterpillar illustrations, I used a base of white icing/frosting, followed by some rainbow sprinkles for all the lovely colourful dots in the illustrations and then added our caterpillar friend piped in the middle, with a little sprinkle of yellow dusting sugar for his fuzziness.
what you will need
Premade Hungry Caterpillar faces
Vanilla icing/frosting – white and green
Green food colouring
Yellow sanding sugar, such as this one
Candy coated chocolate balls or rainbow sprinkles
Soft black licorice – cut into thin 3-4cm long pieces – 2 per cupcake
Piping bag with an open star piping tip
vanilla icing/frosting
I used the icing recipe that goes along with the Moist Vanilla Cupcakes at lifeloveandsugar.com. I think next time I would double the recipe as I ended up a bit short and would have liked to make the caterpillars a bit more plump too! I guess mine turned out more like the little caterpillar before he ate up all that food…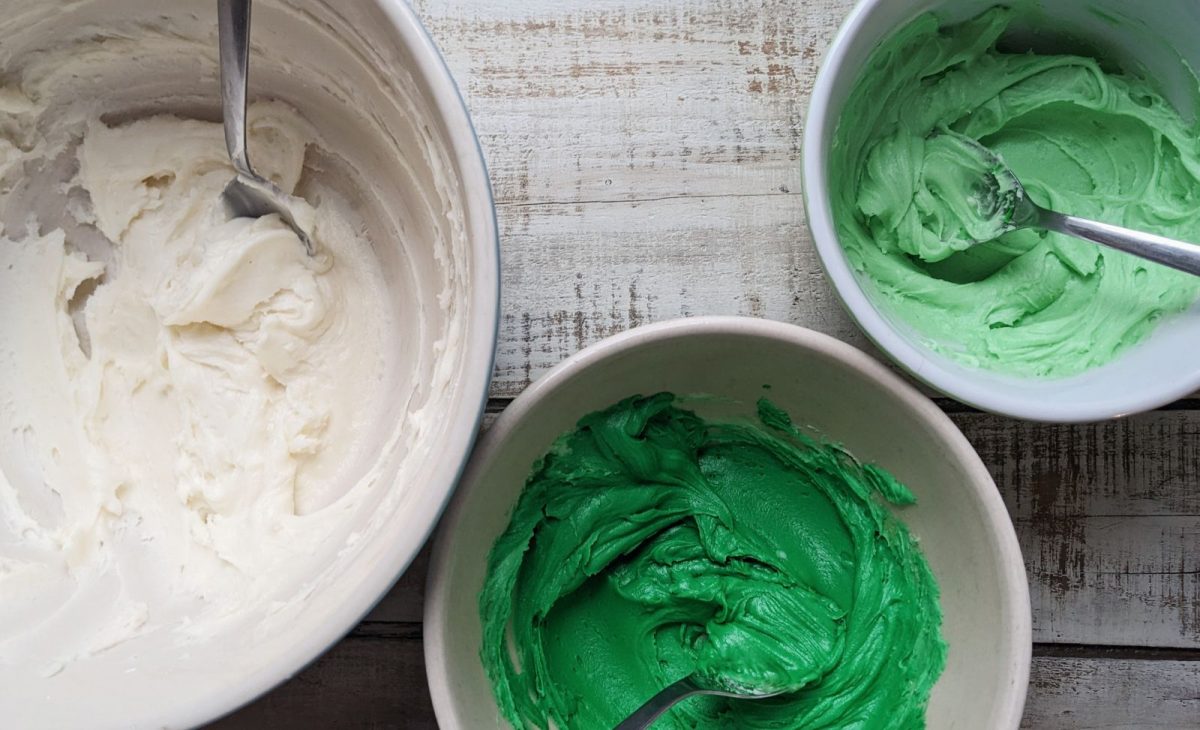 Set aside half of the icing/frosting to keep white for the base decorating. With the other half of the icing, add green food colouring until it reaches your desired shade of green. I made two shades to mix together when piping on the caterpillar body. Just one shade of green will do perfectly fine as well!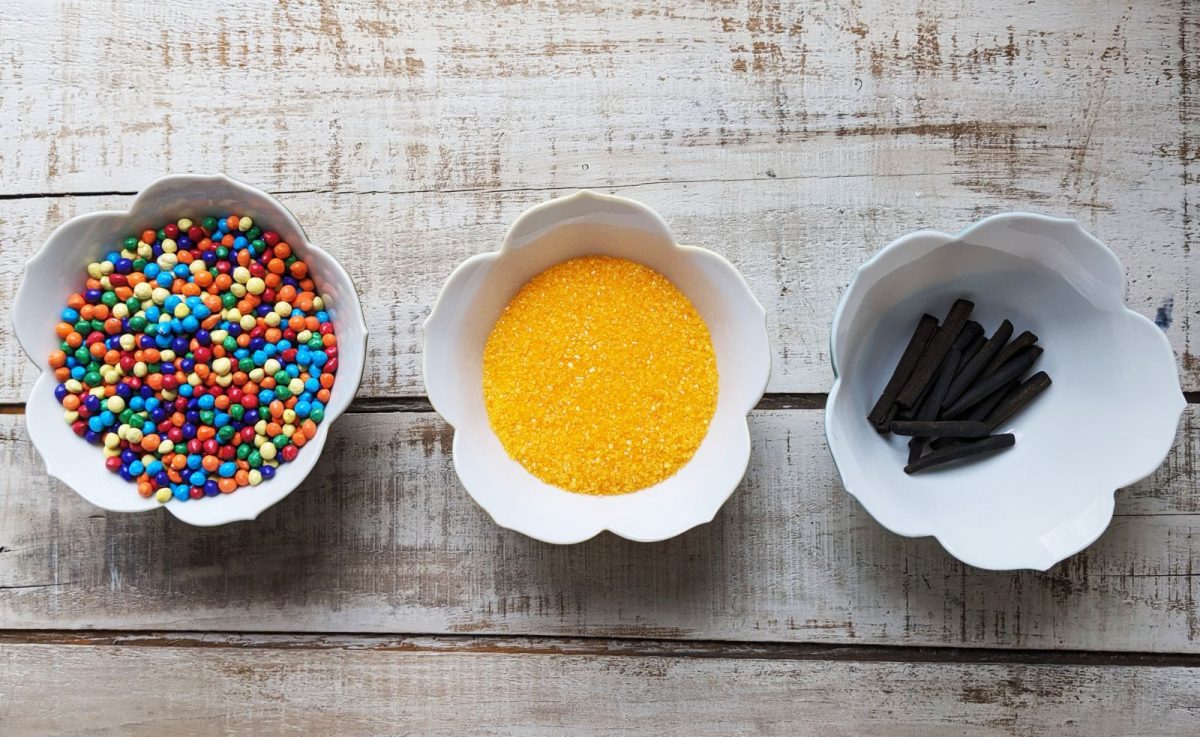 prepare all ingredients before starting to decorate
Piping Bag
Prepare piping bag with open star tip, then add in green icing. If using two shades of green for an ombre effect, fill one side of the bag with one shade of green and place the other shade on the opposite side. There is a helpful tutorial at Sugar & Sparrow if you need help.
Candies & Sugar
Prepare your other decorations – rainbow sprinkles, yellow dusting sugar and black licorice cut into 3-4cm long segments.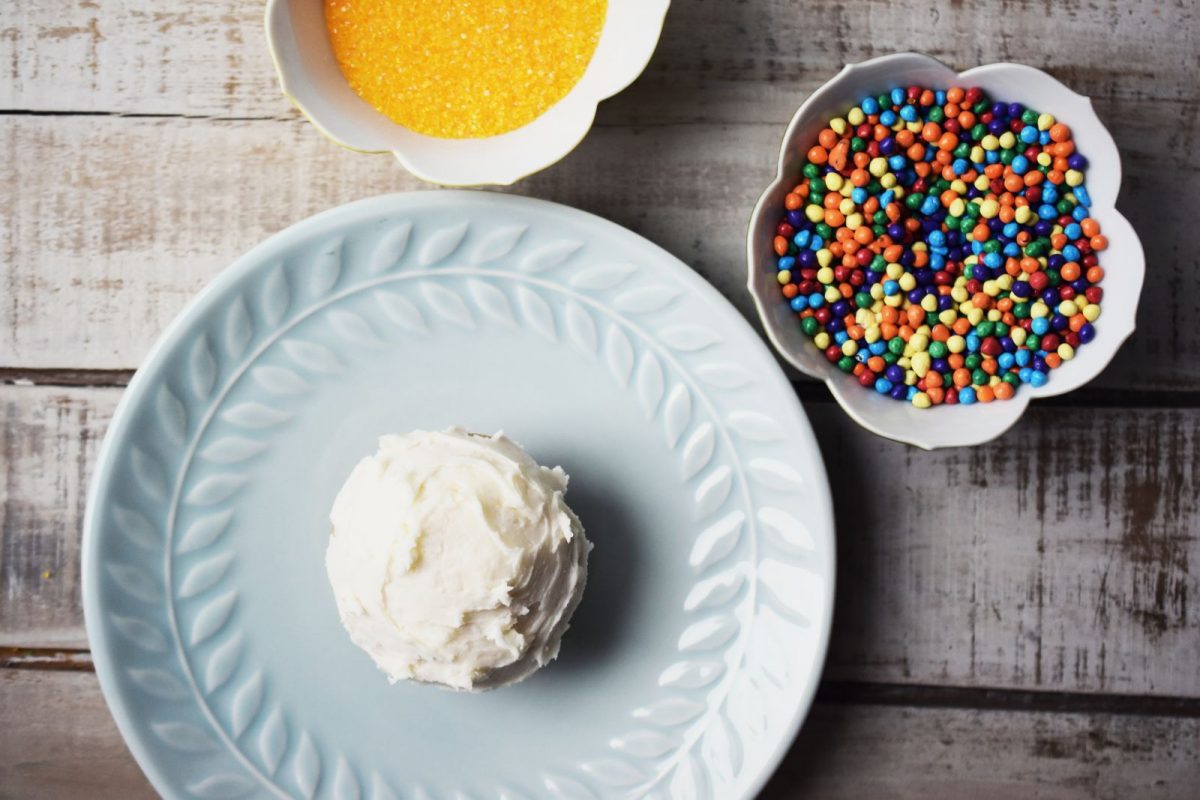 Ice the cupcake using the white icing.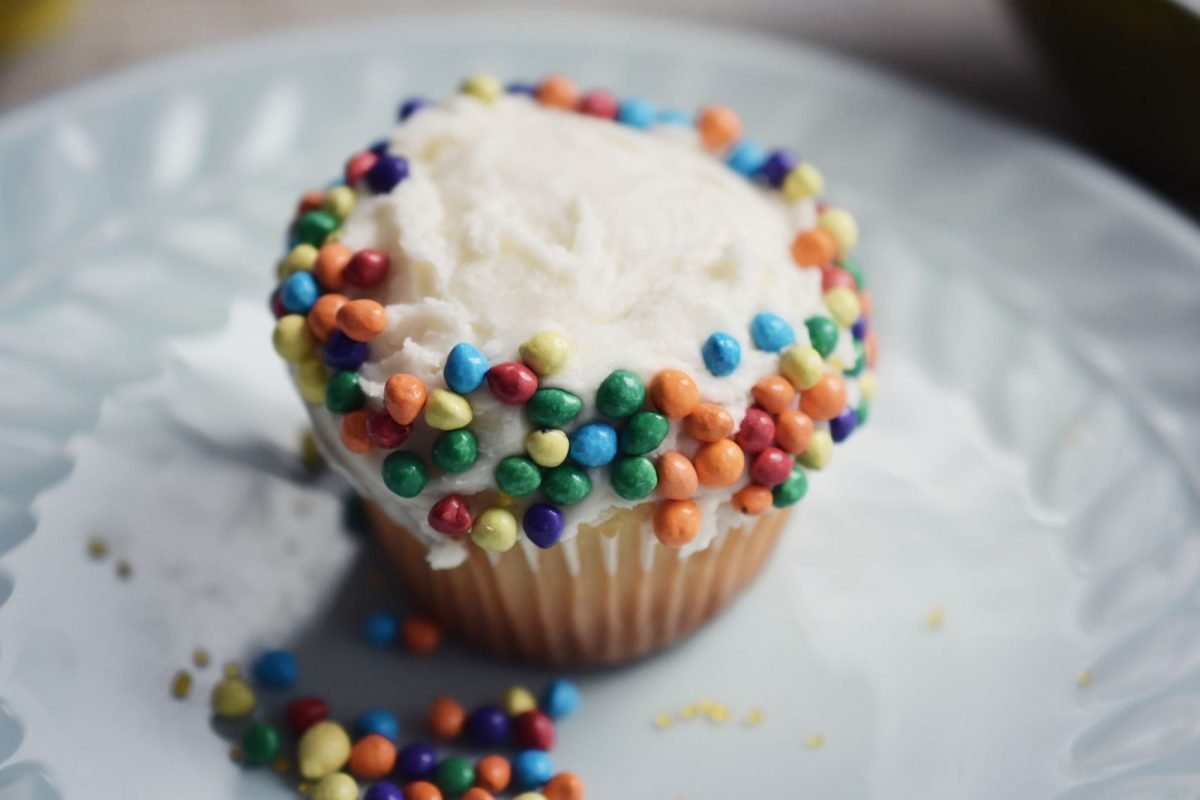 Pour the rainbow sprinkles onto a plate and roll the cupcake around on the sprinkles until you have a rim of sprinkles all around the base, leaving white in the middle to place your caterpillar.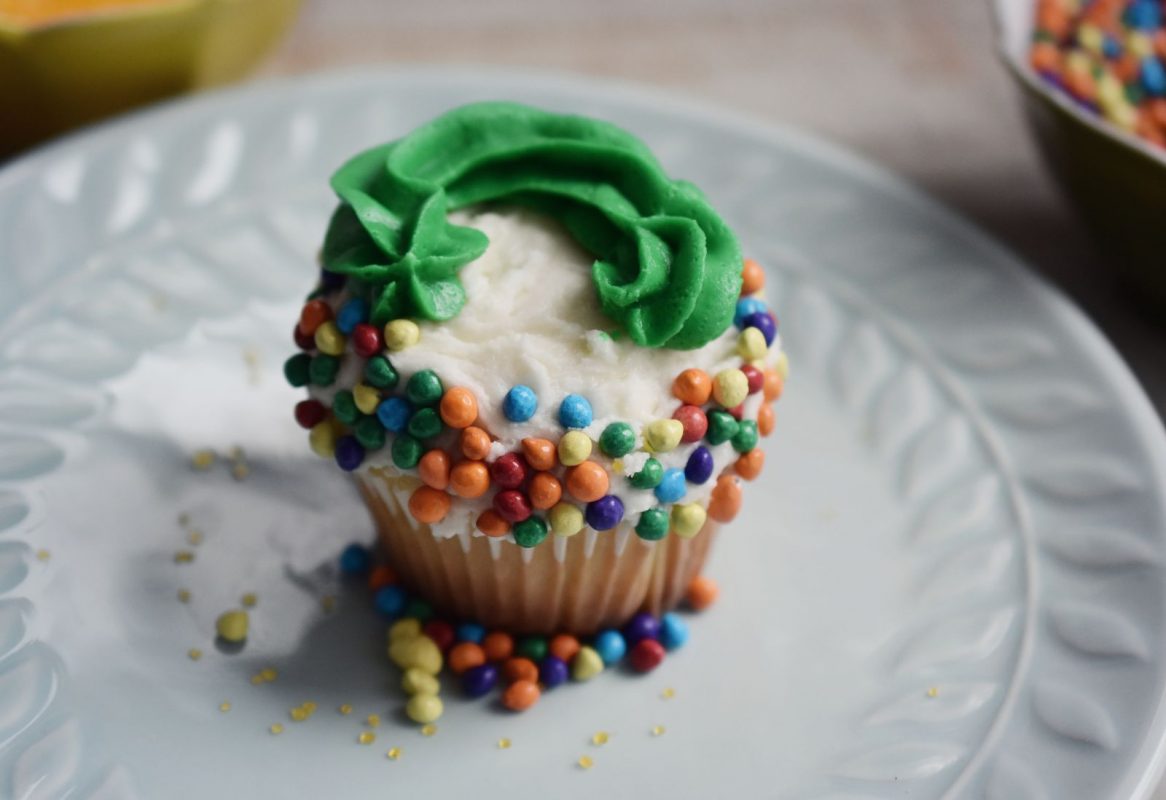 Pipe a caterpillar shape onto the white middle of the cupcake, curving the icing around half of the top. As I said, I wish I'd made my caterpillars a bit more plump!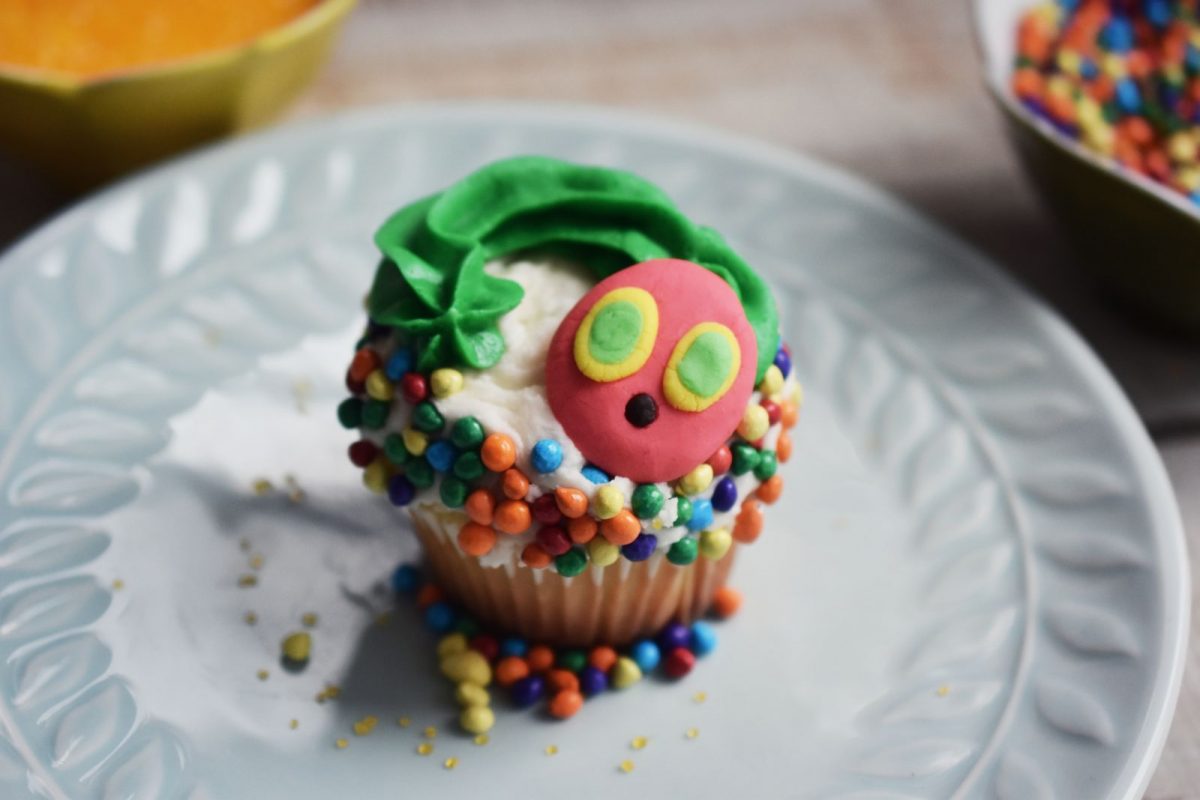 Press one of the premade caterpillar faces onto one end of the piped green body.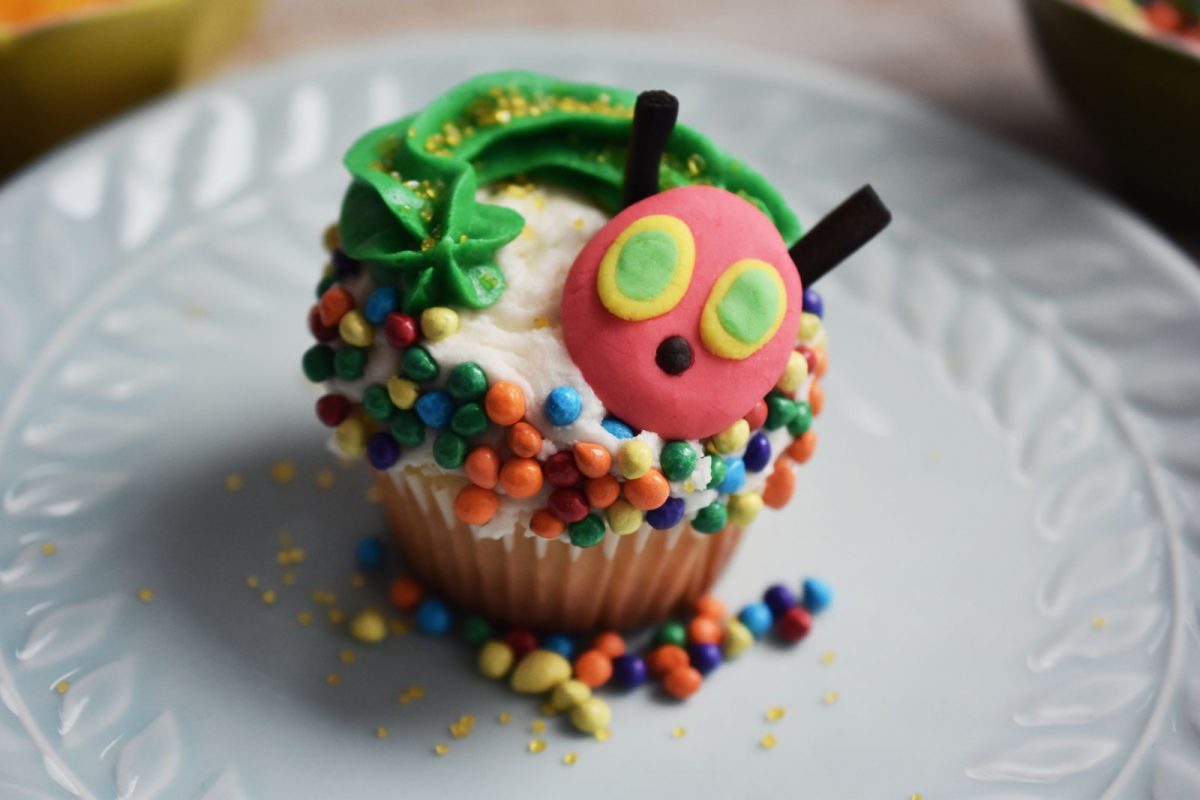 Just behind the caterpillar's head, stick two of the black licorice antennae into the cupcake. Sprinkle some of the yellow sugar into the body of the caterpillar.
Your Very Hungry Caterpillar cupcakes are now complete and ready to delight the little birthday girl or boy!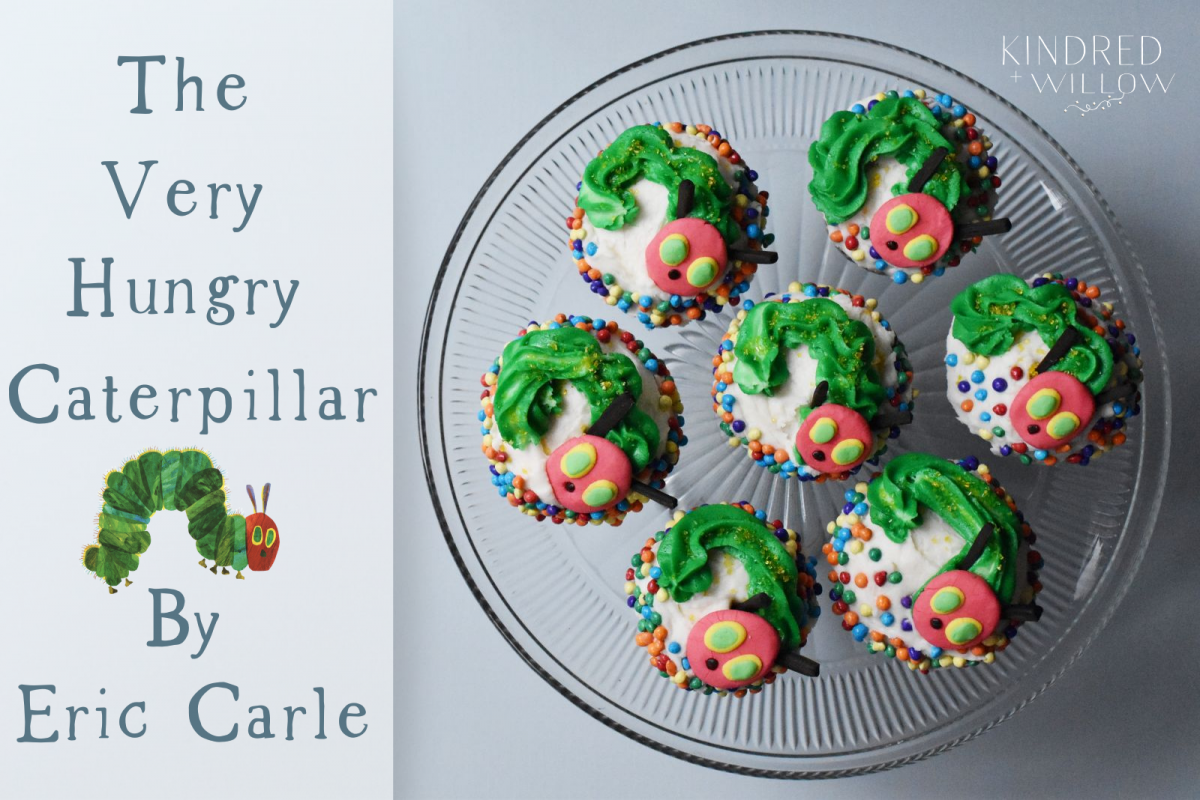 Enjoy seeing your little one's face light up when they see their favourite little caterpillar adorning their birthday treat ♥